Online event by UNICA on the European Universities Initiative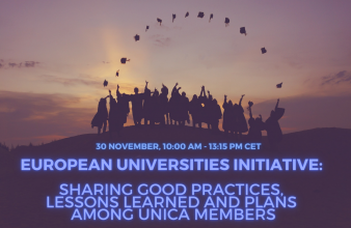 30. November 2020. 10:00 - 13:15
online
30. November 2020.10:00 - 13:15
online
---
The Network of Universities from the Capitals of Europe, UNICA, is hosting an online event titled "European Universities Initiative: Sharing good practices, lessons learned and plans among UNICA Members", on the 30th of November.
The event will consist of two panels, one of which is going to address lessons learnt and plans for European Universities in the (post-)Covid Era with representatives of alliances selected at the first call, the second will tackle the topic of starting a European University in the (post-)Covid Era representing the alliances selected in 2020.
Ferenc Takó, Head of International Strategy Office and Project Manager of CHARM-EU at ELTE will take part in the first panel of the initiative, representing CHARM-EU in the discussion.
The programme and registration form are available at UNICA's website.