Online Summer School at the Ural Federal University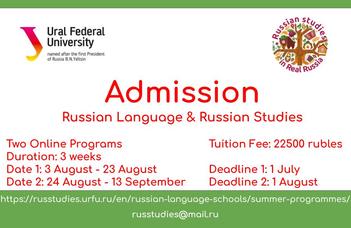 Online Summer School 2020
Ural Federal University
Russian Studies in Real Russia
CONDITIONS
Classes are held in groups of 6-9 students according to Russian language level
Classes are held in distance learning form using Google Meeting, ZOOM, Blue Bottom and other platforms for online meetings and the web-portal Elearn UrFU
SCHEDULE & TUITION
Duration: 3 weeks
30 academic hours of Russian language (2 academic hours per day)
26 academic hours of Russian Studies (1 or 2 academic hours per day)
1 academic hour = 45 minutes
Credits: 4 ECTS
Tuition Fee: 22500 Russian Rubles for the whole course of 3 weeks.
PROGRAMS AND DATES
Program 1:
Russian Studies in Real Russia: From 3 August to 23 August
The program focuses on Ekaterinburg, which is Russia's third capital and fourth largest city that is located at the crossroads of Europe and Asia. We take you to the heart of the Ural Mountains region, to Ekaterinburg, which is one of Russia's major industrial, economic and cultural centers, to discover together the historical and cultural aspects of Imperial Russia, Soviet Russia and Contemporary Russia.
Program 2:
Russian Woman - Russian Power: From 24 August to 13 September
The main aim of this program is to highlight the role of Russian women in Russia's social, political and economic spheres. From the imperial times of Russia, passing through the soviet times to nowadays, we focus on the role of Russian women shaping their lives and the lives of others in different aspects of Russian life.
Application:
To join our Summer School Online Programs, please fulfill the application on https://russtudies.urfu.ru/en/application/
More information: https://russtudies.urfu.ru/en/russian-language-schools/summer-programmes/