ONLINE SUMMER SCHOOL ON FINANCIAL CRIME, CORRUPTION AND MONEY LAUNDERING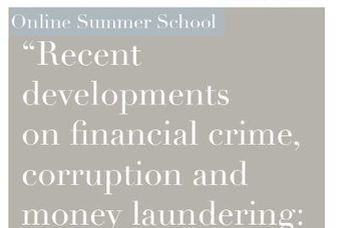 HU
The Research Institute for Transparency, Corruption and Financial Crime, Faculty of Law - Aristotle University of Thessaloniki organizes its Online Summer School on financial crime, corruption and money laundering hold between 6th and 11th of July 2020.
APPLICATION DEADLINE
30th of June 2020
Early bird application: 20th of June 2020
ELIGIBILITY
This summer school aims at law students, young graduates and professionals with a background in law. Applicants with a background in other disciplines that are relevant to the theme of the summer school will be considered as well.
All courses are taught in English. Although applicants are not required to present an official certificate of language proficiency, they need to be fluent in English, so that they can follow the courses and interact with fellow students.
COURSE FEES
The tuition fee is € 250. It includes tuition, course materials, and the certificate of attendance.
A special "early bird" fee of € 200 is offered to all participants who register before 20th of June.
ABOUT THE SUMMER COURSE
The 6-day intensive online courses will focus on ongoing developments of key issues in combating international fraud, corruption and money laundering, international and European anti-fraud mechanisms and procedures, etc. Recent developments to be discussed will include, inter alia, the directive on fraud against the EU financial interests, the Regulation on the European Public Prosecutor's Office, the Criminal Law Anti-Money Laundering Directive, asset recovery and confiscation, corporate liability, corruption, etc. The classes will be live, taught with the help of a simultaneous teleconferencing system, so that the participants will have the chance to interact and participate in the discussion.
APPLICATION
More information and application: law.auth.gr/en/anti-corruption/summer-school-2020