Opening Ceremony of the New Academic Year for International Students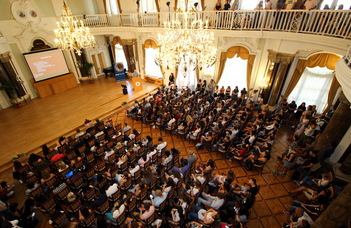 The university organized the opening ceremony of the autumn semester for international students in the Egyetem tér building of the Faculty of Law, on the 5 September.
The event was opened by Dr. László Borhy, the Rector of the University. Dr. Imre Hamar, the Vice-Rector for International Affairs. Ms. Anikó Szontágh, the Head of the Department of Erasmus+ and International Programmes gave an introduction on the faculties and workings of the University.
Roland Zatykó, the leading mentor at the ELTE chapter of Stipendium Hungaricum Mentor Network and Béla Dániel, President of ELTE Erasmus Student Network introduced their respective organizations. Afterwards our International Student Ambassador and current Stipendium Hungaricum student, Mamdouh Alqudsi spoke to the new students about getting settled at ELTE.
The last speaker of the day was Mr. Peterjon Cresswell, Senior Editor of WeLoveBudapest.com, who got the audience acquainted with the cultural, leisure and sport possibilities offered by the capital of Hungary. The event was concluded by Eötvös Art Ensemble's folk dance performance.
After the ceremony itself the representatives of eight faculties and ten university organizations and service providers were present in the Information Market. They were accompanied there by the representatives of WeLoveBudapest and the National Directorate-General for Aliens Policing, all of whom stayed late into the afternoon on site to answer questions and give general guidance to the international students.