Semester opening ceremony for international students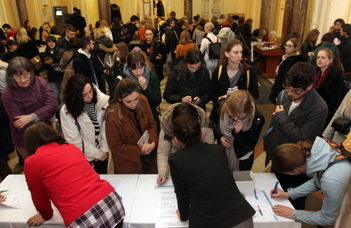 Our university organized the opening ceremony of the spring semester for international students in the Egyetem Square building of the Faculty of Law, on 7 February.
The event was opened by Gréta Ercsey, International Coordinator of the ELTE International Strategy Office. The students were welcomed by Csaba Prónai, Vice Dean for Foreign Affairs at the ELTE Faculty of Social Sciences, and Head of the Department of Cultural Anthropology. Afterwards, Ferenc Takó, Head of the ELTE International Strategy Office, and Béla Dániel, President of the ELTE Erasmus Student Network, demonstrated the diverse educational activities and student life at the university.
In the second part of the event, Camilla Persi and Amber Holland, Erasmus+ students from Italy and the UK, shared their own stories with the audience, next Peterjon Cresswell, Editor-at-Large at the online magazine WeLoveBudapest, presented the leisure, cultural, and sports events available in Budapest. The series of presentations was followed by the folk dance performance of the Eötvös Art Ensemble. Finally, the representatives of eight faculties and thirteen university organizations answered the students' questions in the Aula.