Students of 11 universities were training together at USF Budapest 2019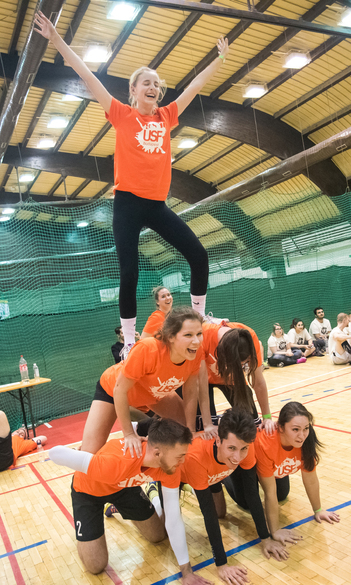 Eötvös Loránd University, ESN ELTE and BEAC (Budapest University Athletics Club) organized the University Sports Festival Budapest for the 4th time on the 29th of November.
Students representing 65 countries and 11 higher education institutions trained together with the goal of having a community experience. True to their motto, "Let's move together", they took part in volleyball and futsal championships but there were also possibilities to try individual sports, for example different types combat sports, airflow yoga, polefitness and even chess. Belly dancers and cheerleaders of BEAC made the event even more spectacular with their performances.
There was even a competition between the universities, where the Semmelweis University was able to get the gold medal, while last year's winner, Budapest University of Technology and Economics placed second. Szent István University managed to get the third place.
RESULTS:
Futsal championship:
International Business School
Szent István University
Budapest University of Technology and Economics
Volleyball championship:
Metropolitan University
Semmelweis University
Szent István University
Summary
Semmelweis University - 917 point
Budapest University of Technology and Economics - 845 point
Szent István University - 834 point
International Business School- 750 point
Eötvös Loránd University - 726 point
Metropolitan University - 550 point
Corvinus University - 520 point
Budapest Business School - 271 point
Central European University - 205 point
University of Physical Education - 203 point
National University of Public Service - 8 point
For ELTE and BEAC it is very important to organize programs that are attractive to foreign students as well. Nowadays approximately 500 foreign students do sports in the sports club of ELTE.
The event was supported by Budapest Festival and Tourism Centre Nonprofit Ltd and VIWA Vitaminwater.
Photos taken at the event are available on BEAC's Facebook page.