Success, full house at the first TEDxELTE conference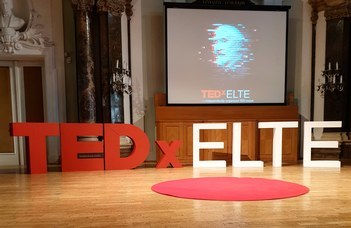 Questions of big data and data mining, the connection between mental health and playback theatre, university students accelerating the school reintegration of children living with chronic diseases – some of the topics which were addressed at the first TEDxELTE conference involving more than 200 attendees on the 18th of October 2019 at ELTE's Aula Magna.
The popular TED conferences feature short (around 10–18 minutes) thought-provoking and entertaining speeches. According to the Head of TED, Chris Anderson, they offer 'Ideas Worth Spreading' for the audience. TED completely transformed the well-known conference experience and it became the world's most exciting, sought-after and prominent not-exclusively-professional conference. Today TED events deal with issues ranging from business to global problems in hundreds of different languages online and offline as well.
On the initiative of two students from the Faculty of Social Sciences, ELTE (Youstina Azer and Heszterényi Réka, International Relations BA) TEDxELTE (TEDx meaning events independent from TED, but organised following its guidelines) invited 10 speakers – among which 4 were ELTE students – to share thought-provoking, personal stories with the audience. During the breaks UNHCR, as a guest to the event, offered an insight into the life of refugees in the transit zones with their VR kit. The first TEDxELTE conference revolved around the theme
'Zoom in!'.
The speakers were asked to share personal stories shedding a new light on success stories, social phenomena or scientific questions.
The conference was opened by Szűcs Gergely, bilingual host and university lecturer who called the speakers on stage.
András Volom, the former UN Youth delegate of Hungary, and founder of Visegrad for Sustainability explained why it is not enough to protest against climate change and how important it is to be able to negotiate with decision-makers, consider problems in their complexity, choose aims wisely to maximise the outcome – so we must participate in politics.
From the Faculty of Law, Anna Molnár, student and special education teacher at a reformatory school, relying on the Pygmalion-effect, explained that when dealing with juvenile delinquents we must be open-minded and emphatic since their background. She also highlighted that social prejudices make re-integration harder. With applying this mindset, not only can we help them, but we can improve ourselves as well.
The Hungary-based author, Donáth Mirjam, who worked at Reuters news agency before and lived 7 years in NYC, shared how she realised during the years spent abroad how determining our roots and home are for our identity and how important it is to get to know ourselves and identify our goals so that we can design our future accordingly.
Enjoy Budapest café is the only place in Budapest where robots serve the guests. Csizmazia Gergely (CTO, Enjoy Budapest) made it clear: robots are not the future, but parts of the present, colleagues of humans who follow orders precisely, are able to work longer hours but still are inferior to humans considering flexibility, creativity, therefore we should not be afraid of them, but learn how to cooperate with them.
Fanni Ferenc from Amigos for Children, an organisation composed of university students helping ill children, claimed that we should forget our prejudices which portray social work as dull and joyless. The amigos don't see ill children when they visit hospitals, but only children whose day they can make colourful, happy and lighter by playing card and board games and teaching languages to them.
Valentina Lilla Bálint, student of the Faculty of Humanities, experienced the addictive effects of measurable success during her school years and realized that she had to choose a different path for her mental health. In her speech she talks about her transformative experiences with the combination of psychodrama and theatre, Playback, which is an improvisational theatre form, and about the importance of listening to each other, openness and community in terms of the quality of life – emphasizing that there is 'drama' that is actually needed.
Founder of Prezi and Budapest School, Péter Halácsy said: starting Prezi has taught him the importance of continuous learning and development, even in the way how we learn. Just as our everyday experiences are unique, so is our path of learning, and that is why it is so important that our children receive personalized education based on creative work using advanced techniques.
Director of Communications at GDF SUEZ Energia Holding Ltd., Andrea Pánczél talked about why gender equality is important for companies in the 21st century: overcoming the preconceived notion in both genders that women have no place in leading positions or in the energy sector, as it is a major contributor to the success of a company if multiple perspectives meet in decision-making roles.
Zsanett Váradi, student of the Faculty of Law, explained that the largest Internet companies own excessive information about their users, and this lack of e-privacy is a threat to democracy, as data-based real-time manipulation can change the outcome of political elections. In her opinion, it is not law (GDPR) that can provide a solution, but decentralized networks based on blockchain technology.
Student of the Faculty of Humanities, Teodóra Márkovity shared her personal story about the importance of speaking up after experiencing abuse, the steps she took to be able to talk about what happened to her and the ways victims should be supported, instead of being exposed to blame.