Summer School Annecy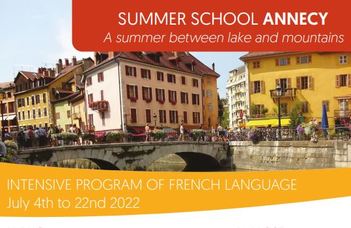 Lyon Catholic University announced the opening of a summer program which will take place on our new campus in Annecy, from July 4th to 22nd 2022.
This specific offer is taking place in an exceptional and unique setting in the very much sough-after city of Annecy. The program is only for composed groups. An opportunity to offer to your students a turnkey language course, including cultural activities and accommodation in this lacustrian city internationally known for its touristic appeal.
Students will attend their course within our new Alpes-Europe campus, ideally situated in the old Annecy, one of the most beautiful cities in France. A summer stay, between lake and mountain, nearby Switzerland and Italy.
Enrolments are open until March 27th 2022. Feel free to contact the university for further information.
Fees for both training and accommodation: 2 990 euros, meals not included.
More information: https://www.ucly.fr/en/ilcf-lyon-launches-its-summer-school-in-annecy/