The 4000-year-old cremated bones tell of a tragic fate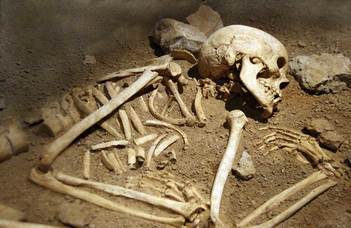 HU
A new study published in PlosOne revealed the results of bioarcheological analyses of 29 Bronze Age individuals from 26 urn cremations and three skeletal burials. These complex archaeological, strontium isotope and anthropological studies on bone remains are the first to be published from Bronze Age cremation burials in Hungary.
The results provided valuable information on the social differences, and on the living and death conditions of the studied individuals discovered at Szigetszentmiklós-Ürgehegy, a site that is one of the largest excavated Middle Bronze Age cemeteries (dated between 2150 and 1500 BC) in Hungary. The case of the richly furnished grave n. 241 is of particular interest. The urn contained the cremated bones of an adult woman and two 7 to 8-month-old foetuses, as well as remarkably prestigious (bronze and gold) grave goods.
Using 87Sr/86Sr isotope analysis of different dental and skeletal remains, which form in different life stages, it was possible to reconstruct the potential movements of the 25-35-year-old high-status woman over almost her entire lifetime, from birth to her tragic final days, buried with her twin foetuses.
The research was conducted in cooperation with Claudio Cavazzuti (Department of History and Cultures, University of Bologna; University of Durham), Magdolna Vicze (Hungarian National Museum), Tamás Hajdu (Department of Biological Anthropology, Eötvös Loránd University; Department of Anthropology, Hungarian Natural History Museum), Federico Lugli (Department of Cultural Heritage, University of Bologna; Department of Chemical and Geological Sciences, University of Modena and Reggio Emilia), Alessandra Sperdutti (Museo delle Civiltà, Rome; University of Napoli "L'Orientale"), Anikó Horváth, István Major, Mihány Molnár and László Palcsu (ICER Centre, Institute for Nuclear Research, Atomki) and Viktória Kiss (Institute of Archaeology, Research Centre for the Humanities, Eötvös Loránd Research Network).
---
The paper was supported by the Guest Researcher Fellowship granted by the Hungarian Academy of Sciences; by the Momentum Mobility Research Project hosted by the Institute of Archaeology, Research Centre for the Humanities, Hungarian Academy of Sciences Centre of Excellence (PI Viktória Kiss) and by the grant from the Hungarian Research, Development and Innovation Office, project number: FK128013 (PI Tamás Hajdu), as well as by the ICER project at the Atomki Laboratory, supported by the European Union and the State of Hungary, co-financed by the European Regional Development Fund within the project of GINOP-2.3.2-15-2016-00009 'ICER'.
Source: ELTE TTK