The 4th Conference of Law of Poland and Hungary in Lublin on the Issues of Legal Capacity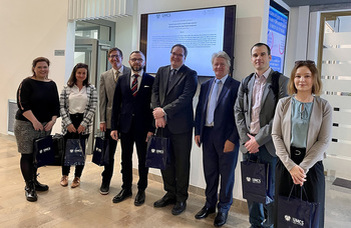 HU
Professors from four departments of the ELTE Faculty of Law presented the latest results of their research supported by the Hungarian Scientific Research Fund (OTKA) at a conference organised together with Maria Curie-Skłodowska University in Lublin.
On 27 April 2023, the 4th Conference of Law of Poland and Hungary was held in the Aula Magna of the Faculty of Law and Public Administration at Maria Curie-Skłodowska University. The symposium was entitled Current Issues of the Concept Legal Capacity.
The event was jointly organised by Maria Curie-Skłodoska University and ELTE Faculty of Law. The topic of the conference was current issues related to legal capacity, which was discussed by the speakers in the aspect of the Hungarian and Polish legal systems. With regard to the complexity of the concept of legal entity, the presenters investigated the issues of legal capacity and capacity to act within the framework of civil law, administrative law, constitutional law, and international law. Additionally, they considered potential legal solutions related to the legal capacity of artificial intelligence, as well as related liability issues.
At the conference, papers were delivered by Zoltán Pozsár-Szentmiklósy (head of department, habilitated associate professor), Fruzsina Gárdos-Orosz (habilitated associate professor), Bernadette Somody (assistant professor), and Flóra Kollarics (teaching assistant) from the ELTE Department of Constitutional Law; by Balázs Tőkey (habilitated associate professor) from the ELTE Department of Civil Law; by Valéria Kiss (assistant professor) and Fruzsina Tóth (assistant professor) from the ELTE Department of Theory of Law and Society; and by István Hoffman (university professor) from the ELTE Department of Administrative Law.
The conference also offered a platform for the presentation of the latest results of two research projects supported by OTKA, namely "The Concept of Legal Capacity as a Fundamental Right" (OTKA K 132713, supervised by Bernadette Somody) and "The Restriction of Adults' Capacity to Act" (OTKA FK 132513, supervised by István Hoffman). The research results will also be published by the authors in the Studia Iuridica Lublinensia, a Scopus Q2 journal in Law.
During the cultural programmes following the conference, the participants visited the World Heritage City of Zamość and Warsaw, in addition to the city of Lublin.