The Ambassador of Colombia visited ELTE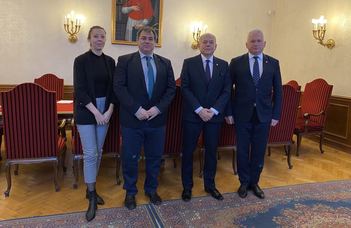 HU
On 9 November 2022, Ignacio Enrique Ruiz Perea was received by Rector László Borhy and Imre Hamar, Vice-Rector for International Affairs, in the Rector's Cabinet at ELTE.
During the meeting, the parties reviewed the current relations between ELTE and the universities of Colombia and also discussed the possibilities of future cooperation. Ignacio Enrique Ruiz Perea expressed his pleasure that Colombian students are able to broaden their horizons and increase their knowledge in Hungary due to the Stipendium Hungaricum scholarship programme.
Eötvös Loránd University concluded a bilateral agreement with the Pilot University of Columbia in 2005, but some departments and institutes have already been inviting guest lecturers since 2002.
The Latin American Research Centre was opened at the ELTE Faculty of Humanities in 2016. The centre coordinates interdisciplinary research on topics related to Latin America at the university. It not only brings together research conducted by several departments at the Faculty of Humanities and several faculties at ELTE but also strives for playing an integrative role among other centres and research groups engaged in the region of Latin America in Hungary. It aims to make the achievements of Latin American culture and science known to the wider public. To this end, it undertakes the organisation of educational programmes, as well.
In the fall semester of the academic year 2022/2023, twenty-two students from Colombia are studying at ELTE. There are five students in the bachelor's programme, twelve in the master's programme, and five students are taking a preparatory course in the international programme or are enrolled in the doctoral programme. Most (altogether seven) students are pursuing foreign language and communication studies, and four of them are undertaking international studies.