The Reel Eye '21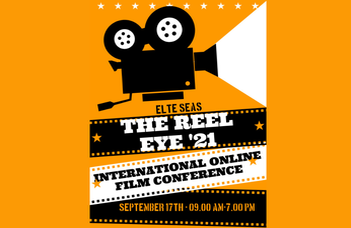 17. September 2021.
ONLINE
17. September 2021. -
ONLINE
---
ELTE's School of English and American Studies is organizing a conference in the framework of their successful film specialization, in the topics of research and practice, film and literature, film, and cultural history.
International and Hungarian speakers will explore the relationship between film and literature, film and history, film and culture, and research and practice, focusing on Hungarian, Belgian, Dutch, German, British, Irish, and Australian films, and exploring current and exciting issues in film, film aesthetics, film philosophy, adaptation theory and cultural studies. The conference will feature presentations on Shakespearean adaptations and films by Stanley Kubrick, Atom Egoyan, Oliver Parker, Attila Janisch and Justin Kurzel.
The conference will be open to the public and held through Microsoft Teams; registration is required. The conference will be held in English. To register, please send an e-mail to the following address:
hargitai.marta@btk.elte.hu
.
Source: ELTE BTK