The strength of soft power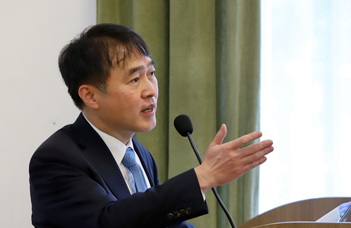 HU
Lee Shang-hwa, Ambassador and Deputy Minister for Public Diplomacy of the Republic of Korea, gave a lecture at the ELTE Department of Korean Studies. The diplomat was greeted by Imre Hamar, Vice-Rector for International Affairs at ELTE and Director of the Institute East Asian Studies, and Beatrix Mecsi, Head of the Department of Korean Studies.
The objective of "soft diplomacy" is to strengthen bilateral and international relations by winning the hearts and souls of the people as was revealed by the speech entitled "Korea's Soft Power and Global Pivotal State Vision" delivered by the deputy minister in English. He also mentioned seemingly profane examples, such as Korean gastronomy and the appearance of K-pop (Korean popular music) bands that are achieving an increasing cultural impact globally.
In his speech, Lee Shang-hwa also referred to the factors promoting tourism, and comparing the V4 states with the Mekong countries, he outlined the global role and goals of South Korea. The diplomat expressed his gratitude to the Hungarians for commemorating the victims of the Danube boat accident in a dignified manner in 2019. (Twenty-five Korean citizens and two Hungarian crew members of the ship lost their lives in the tragic collision. Hungary erected a memorial to the victims near the site of the accident, at the Pest bridgehead of Margaret Bridge.)
The deputy minister talked about the extensive relationship between the Republic of Korea and ELTE recalling that the Korean library of the university was inaugurated two years ago, after the Department of Korean Studies at the ELTE Faculty of Humanities successfully applied for funding to the Window on Korea project. He ended his speech by asking the audience to support South Korea's bid to host the 2030 World Expo in Busan.
The ELTE Sejong Institute is holding the Korean Career Day for the third time on 5 October, where representatives of the largest companies of the Far Eastern country (including Samsung SDI, Hankook, and LG Chem) will be present. The event is to be opened by Imre Hamar, Director of the ELTE Institute of East Asian Studies, and the guests will be greeted by Kim Yongduk, Director of KOTRA (Korea Trade-Investment Promotion Agency). The events will continue on 10 October, which is a national holiday in Korea to commemorate the invention of the Korean writing system (Hangul). On the Hangul Day, a Korean speech contest will be held with the participation of the rector of Dankook University, the co-organising institution of the event, who will be offering a special prize to the top three contestants.
The strength of soft power
The strength of soft power
Beatrix Mecsi, Head of the Department of Korean Studies
Beatrix Mecsi, Head of the Department of Korean Studies