The success of our students at the Herbert Smith Freehills Competition Moot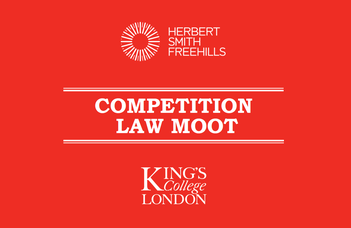 The team of ELTE Faculty of Law advanced to the next round in the Herbert Smith Freehills Competition Moot 2021, organized by the prestigious King's College (London).
This year, the international competition (in the theme of EU competition law) focused on competition law assessments of exclusionary abuse of App Stores within vertically integrated digital platforms.
In an actual case, similar to the hypothetical one, the European Commission is issuing charges against Apple, following a complaint from Spotify. From the first (written) round, 12 teams with the best written submissions advanced to the next round from nearly 40 participants.
In mid-June, this time online due to the coronavirus situation, we can root for the team of the following students in the next round: Andor Cserép, Kristóf Csillik, Balázs Schultz and Lóránt Teleki. Teachers, Dr. Mónika Papp, senior lecturer and Dr. Bálint Bassola Ph.D, lawyer helped in the preparation of the students.
Preparation for the competition was assisted by a tender from the Ministry of Justice to improve the quality of legal training and was organized by the Faculty's Department of Private International Law and European Economic Law.