Water Sport Day with our International Student Ambassadors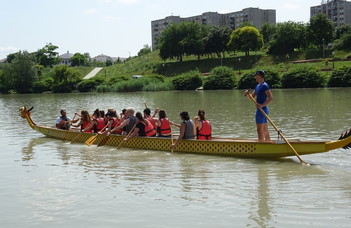 The International Strategy Office of ELTE organized a teambuilding sport-day for the international student ambassadors on 18th of June. The event was sponsored by BEAC in the form of a tender announced for organizing a sport-related program for the students and staff of ELTE. The International Strategy Office chose the ELTE Watersport Centre as the venue of the program, which provided the opportunity to try out many unique and interesting sport branches among the River Danube.
Our international student ambassadors help a lot in the important work of providing firsthand information for the enquiring international applicants about the life at the university, their possibilities, about the work at the faculties and living in Budapest. They do their job voluntarily, without any financial compensation and they are truly valid information-source with their own experiences about studying at ELTE.
To thank their enthusiastic contribution, we organized a water sport day on 18th June 2019, where also the colleagues of the International Strategy Office participated. The weather and the scenery was ideal for an amazing community experience, as the students and the staff members literally paddled in the same boat – a traditional dragon boat-, among the River Danube with the fascinating view of the riverside. Those who sought for more adventure also tried kayaking and canoeing and at the end everyone could have some rest at the dining table and have a good conversation and maybe some home-made tzatziki cream.
We are grateful for all of those who joined us and hope to continue the work for international ELTE students in the next academic year as well!