"We have a responsibility not only at home but also globally"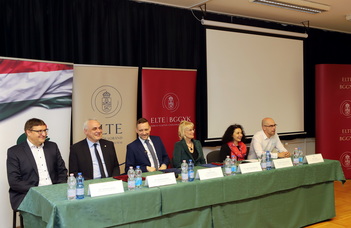 HU
ELTE Bárczi Gusztáv Faculty of Special Needs Education and the Adventist Development and Relief Agency (ADRA) are launching a joint school development and methodology project in Kenya. The initiative affecting the lives of 2,000 children is supported with HUF 14.5 million by the Hungary Helps Programme.
Within the framework of the four-year Special Underserved and Needy Children Empowerment Programme (SUNCEP), a development team of ten professionals will be working together with five primary schools in Kenya. The aim of the school development and methodology project is to prepare African partner institutions for the integration of children with disabilities. At the same time, these schools would become methodological workshops supporting further institutions in horizontal learning. During the project, special needs teachers will be working with children, parents, teachers, school leaders, and other actors connected to schools.
The project launch press event was held at the ELTE Bárczi Gusztáv Faculty of Special Needs Education on 28 April. Dean Gabriella Papp said that the Faculty's activities are focused on socially vulnerable groups, particularly people living with disabilities. The teachers and students at the faculty are the participants or invited experts of several projects offering services to people with disabilities or supervise them. "Bárczi is committed to social responsibility," the dean emphasised, "and is currently taking part in a project outside Europe funded by ADRA and the Hungary Helps Programme."
"Being a Hungarian university with the largest international embeddedness and system of relationships, ELTE is an active participant in many international development programmes. Bárczi's new project, an important area that appears in the University's Institutional Development Plan,
is related to research-education cooperation with African countries,
which also promotes this objective," said Lénárd Darázs, Vice-Rector for General Affairs at ELTE.
Azbej Tristan, Secretary of State in the Prime Minister's Office in charge of helping persecuted Christians and implementing the Hungary Helps Programme, stressed that Africa is a continent of challenges, opportunities, and the future. The Hungary Helps Programme, which supports projects targeting local communities, has launched 72 projects in 18 African countries in the last five years. With the help of their scholarship programme, hundreds of African students have come to Hungary, who will return to Africa after completing their studies and support their local communities with the knowledge they have gained. The SUNCEP project was launched at the initiative of Edwin Wagah, a former fellowship holder himself, said the secretary of state.
"Edwin Wagah approached us with the idea in the summer of 2021, and the project has been put together so that children living with disabilities in Migori County, Kenya, can learn and have a better life," said Zoltán Sitkei, executive director of the Adventist Development and Relief Agency (ADRA) recalling the beginnings.
"At the schools we will be working with, children's needs are usually only recognised late, at the start of school, but even if it happens earlier, there is no possibility for early development. There is a lack of an environment that would offer equal access to learning for children living with disabilities, their development tools and methods are missing, and teachers often have no or insufficient expertise. Furthermore, children often do not have access to medical aids that would help them lead an independent lifestyle," said Andrea Perlusz, the professional leader of the project and Vice-Dean for Strategic and Scientific Affairs at Bárczi. "That is why
our ten colleagues undertake nearly 300 hours of volunteer work during the programme
in order to alleviate these problems. We have a responsibility not only at home but also globally."
Edwin Wagah, who initiated the project, pointed out in a video message that the programme, also supported by the Hungarian government, is making a lot of effort so that Kenyan children living with disabilities and in need of special education would have equal access to learning. At the end of the event, Ágoston Dobos, a Calvinist pastor from Békésszentandrás, expressed his joy over the launch of the project.
The SUNCEP project in Kenya is led by ADRA, which is engaged in disaster relief, education development, and health projects in 120 countries around the world. The project is professionally supported is ELTE Bárczi Gusztáv Faculty of Special Needs Education with teaching and research activities going back to more than 120 years. Professionals taking part in the programme have decades of experience in the field of integrated and inclusive education and have already contributed to several institution-development processes and training both in Hungary and abroad. The Prime Minister's Office is supporting the project with HUF 14.5 million from this year's budget within the framework of the Hungary Helps Programme.
ELTE Bárczi Gusztáv Faculty of Special Needs Education's school development project
ELTE Bárczi Gusztáv Faculty of Special Needs Education's school development project
Joint School Development and Methodology Project Launch Event
Joint School Development and Methodology Project Launch Event