Adiya Kuspayeva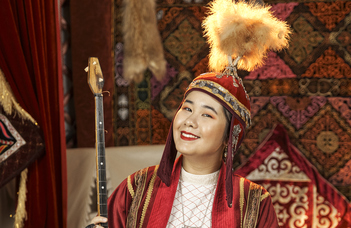 Study program: English and American Studies BA
Country: Kazakhstan
Scholarship:
self-funded
Period of studies at ELTE: 2020.09.01 - 2023.07.08
"you should enjoy the little detours to the fullest. Because that's where you'll find the things more important than what you want"
WHAT STOOD OUT TO YOU ABOUT ELTE?
It is the reputation of the university in the world of academia and the opportunity to receive an excellent education that were deciding factors for the choice of my studies. Though I have to say, the reality exceeded my expectations.
WHAT MAKES STUDYING AT ELTE SO GREAT?
Studying at ELTE is a unique experience that allowed me to bond with people of different cultures and personal backgrounds. Our Faculty of Humanities is known for its diversity and embrace of creativity, which makes me associate the university with a second home. Besides the international outlook, I also got to grow personally and develop the skills necessary for my future career.
WHAT ARE / WERE YOUR CHALLENGES IN YOUR STUDY PROGRAM?
Like every international student, I, too, had a tough time adapting to Hungary, Budapest, and the culture I was unfamiliar with. The first year of my studies was online, affecting the university experience. As for the studies, the curriculum might seem to be complicated for the newcomers, as it has to be arranged personally, so to avoid confusion, it is best to ask questions from coordinators and professors in advance. The program itself may be not challenging, but it is certainly demanding, so I often struggled to manage all assignments at once.
HOW DID YOU OVERCOME THESE CHALLENGES?
I familiarized myself with the Hungarian culture and made some Hungarian friends, which gave me deep insights and interesting perspectives. As of dealing with the challenges, I believe that open-mindedness and overcoming shyness certainly aided me in many situations. Resilience and self-organization are of primary importance, as well, as they are the key for managing time effectively.
HOW WOULD YOU DESCRIBE ELTE IN THREE WORDS?
eye-opening, inspirational, thought-provoking
HOW DO YOU THINK YOUR DEGREE WILL HELP YOU IN YOUR LIFE AND CAREER?
My degree in English & American Studies and specialization in English in Media allowed me to polish my writing skills and acquire all the necessary knowledge to pursue my further interest in politics. I plan to have a career in policymaking and writing eloquently, effectively communicating with your target audience, and acuteness of intellect are of high value in this field.
DO YOU HAVE ANY RECOMMENDATIONS FOR FUTURE STUDENTS AT ELTE?
Don't be afraid to ask questions, for those who seek shall find their answers. And even though the thought of starting a new life in Hungary may be a bit overwhelming, the experience is worth it. Once you are here, "you should enjoy the little detours to the fullest. Because that's where you'll find the things more important than what you want".