Aleksandra Wójcik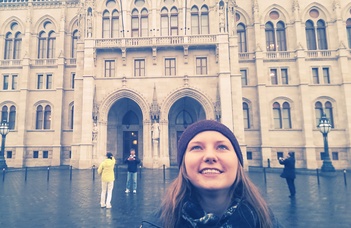 Country: Poland
Home Institution:
Scholarship:
Period of studies at ELTE: 2014.09.01 - 2015.01.31
"I really loved the campus, it had an amazing atmosphere."
Why ELTE?
It was my plan all along to take part in an exchange program during my studies, and Budapest was the first city I thought of. It is almost a tradition right now that students from my faculty go to Budapest to study at ELTE. I heard a lot of good things from them about the university and the exchange program, which only encouraged me to choose ELTE.
What did you like most about being a student at ELTE?
I really loved the campus, it had an amazing atmosphere. I really enjoyed my classes as well – they were well conducted – I always felt the teachers were putting all their effort to make us feel good at ELTE. They made studying efficient and fun at the same time.
What were the challenges in your study program?
The biggest challenge was to start speaking Hungarian. When I came to Budapest, I barely understood anything, I had this barrier I couldn't cross. After some time I managed to overcome my limitations and started using Hungarian more freely. Of course I still have a lot to learn but I really see some progress.
How do you think your degree will help you in your life and career?
I believe Hungarian to be a pretty exotic language so I think being able to speak it will improve my chances of getting an interesting job.
Do you have any advice for future students at ELTE?
Try to benefit from your experience as much as you can. Budapest is an outstanding city full of great and kind people both from Hungary and abroad. You can profit from your stay much more by getting to know the culture and the city. I assure you, there is a lot to get to know.