Bishoy Labib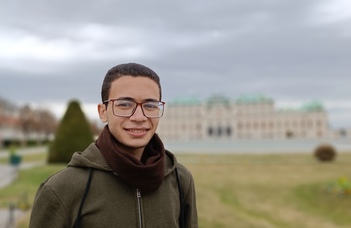 Study program: Mechanical Engineering BSc
Country: Egypt
Scholarship: Scholarship for Christian Young People
Period of studies at ELTE: 2021.09.01 - 2025.01.31
"It's a great environment for innovation, sharing experiences, and meeting other students from different cultures."
What stood out to you about ELTE?
For every student, choosing a university is important, and ELTE is one of the strongest Hungarian universities, known for its research and scientific background, high-quality education, and its international students' community. It's a great environment for innovation, sharing experiences, and meeting other students from different cultures.
What makes studying at ELTE so great?
ELTE provides modern laboratories and equipment that help students gain practical knowledge. For studying engineering, practical background is as important as theoretical background. Also, the professors are very helpful, and they are always ready to help you, which will make your academic experience at the university easier. On the other hand, you can also discover a different culture, for example there is a Hungarian tradition to welcome the new engineering students.
What are / were your challenges in your study program?
The campus of mechanical engineering students is located in Szombathely. It's a good and quiet city but unfortunately, most of the people here don't speak English. So, for a new student who doesn't know any Hungarian, it is a bit challenging in the beginning.
How did you overcome these challenges?
The Hungarian course which we are studying in the first year helped us, not only in the language but also to know more about the rich culture of the country. Also, connecting with Hungarian students helped a lot in learning Hungarian and adapting the new country.
How would you describe ELTE in three words?
Challenging - Development – Inspiring
How do you think your degree will help you in your life and career?
ELTE provides good quality education to give you the skills needed to help build your career and improve your personality. It will provide you with the technical knowledge needed after graduation, in addition to learning about stress management, teamwork, leadership skills, and more, which I think will help us in our academic life and our career.
Do you have any recommendations for future students at ELTE?
ELTE is an amazing opportunity, I recommend it to all future students, enjoy the university experience and the students' community that will help every student who needs it.