Vytautas Vosylius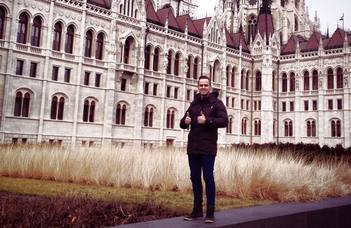 Country: Lithuania
Home Institution:
Vilnius University, Faculty of Law
Scholarship:
Period of studies at ELTE: 2015.02.01 - 2015.06.30
"My studies as an Erasmus student at ELTE are a priceless and once-in-a-lifetime experience…"
Why ELTE?
I chose ELTE mainly because I have heard many great things about this amazing university and some of my friends also studied here before. ELTE provides high level education with professors from all over the world, who are probably among the best specialists in their respective fields of law. In addition, ELTE was my first choice for ERASMUS because I really liked the courses available. Because my main field of study is commercial law, I found the available courses fitting perfectly with my field of law and law practice (international trade, multinational corporations, etc.). Of course, I can't lie - the beauty of Budapest was also a major factor that made me choose ELTE.
What did you like most about being a student at ELTE?
I really love the atmosphere and the warmth of my colleagues and professors. Professors encourage international students to express their thoughts or make suggestions. For example, István Erdős, the professor of the class "International Commercial Arbitration" offered to participate in the pre-moot court competition in Budapest, where I acted as an arbitrator and evaluated teams from all over the world and their arguments regarding the case. This is just one of many examples, that professors at ELTE are really competent and can think of unique ways to interest students in the subjects that they teach.
What were the challenges in your study program?
Probably the biggest challenge I had in my study program was the transition to studying law in a foreign language. As you all know, law has a really big and difficult terminology which is really hard for others to understand. As a law student from Lithuania, I wasn't that familiar with using English in law. Fortunately, as my time as an Erasmus student goes by, I feel more and more confident in my legal English and I am absolutely sure that it will help me build my future career as a lawyer.
How do you think your degree will help you in your life and career?
As a future lawyer with actual work experience at a law firm, my goal is to become an attorney at law, so getting my degree is not an option but a must. My knowledge gained from studies has helped me and my family many times, for example, defending my rights as a consumer against an airline company. My studies as an Erasmus student at ELTE are a priceless and once-in-a-lifetime experience, because it just simply broadens you views and perspective about the world, not to mention that you find friends for life from different countries in the world. I think Erasmus is a great way to further integrate European Union countries and establish everlasting bonds between different member states and their people.
Do you have any advice to future students at ELTE?
For future students at ELTE I can say that you have just made the best decision in your life ☺. But actually I would recommend to study from the start of the semester and not to study a day before the exam, because the transition to studying in English is not as easy as it seems. But do not worry, competent and friendly professors are always there to help you and answer all your questions.