Orientation Week for International Students 2022/2023 Autumn
ORIENTATION WEEK 2022/2023 AUTUMN (5 September - 9 September 2022)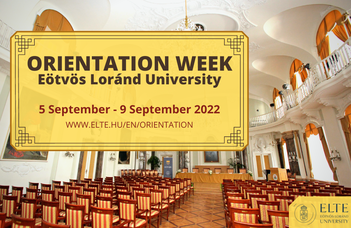 We welcome all our international students in the Autumn semester of the 2022/23 Academic Year. Even though we all have to face new challenges lately, we would like to offer you an unforgettable experience in our welcome week events. The programmes are expected to be held in person, while restrictions and registration obligation may apply to certain programmes due to epidemological reasons. For more information please read the programme description carefully. Please, join us at this unconventional Orientation Week.
During the Orientation Week you will hear about:
The date of the Orientation week: 5 September - 9 September 2022
Please note the some programmes are held a bit earlier or later.
Programmes for all students
More programmes are coming soon.
REGISTRATION CLOSED
Please note that the venue has limited capability. If you would like to attend in person. Spots are distributed by order of registration.
Students that are off the list can follow the ceremony at the
ELTE International Facebook page
.
Registration is not mandatory for the Information Market.
Faculty programmes (Being updated)
Faculty of Law
Enrollment – personal registration
Time: Monday and Tuesday (5-6 September). Check out the timetable.
Orientation meeting
Time: Wednesday 10.00 – 12.00
Location: Building "A" (Egyetem tér 1-3), I and half floor – FAYER auditorium – room VI.
Intercultural get-together
Time: Thursday (08 September) 10.00 – 12.00
Location: Building "A" (Egyetem tér 1-3), I and half floor – FAYER Auditorium – room VI.
Faculty of Special Needs Education
Orientation and Welcome Event
Time: 5 September, 2022 10.00
Location: 1062 Budapest, Andrássy út 98. (MagNet Community House)
Faculty of Informatics
Welcome Day and Orientation Lecture for exchange students (Erasmus, CEEPUS)
Time: Wednesday, 7 September 9.00
Location: Lágymányos Campus South building room 2.502 (2nd floor)
Welcome Day and Orientation Lecture for degree students (Computer Science BSc, Computer Science MSc, Cartography MSc, PhD in Informatics)
Time: Thursday, 8 September 10.00
Location: Lágymányos Campus, South building Bolyai room 0.821 (ground floor)
Faculty of Primary and Pre-school Education
Welcome event
Time: 7 September, 11.00
Please follow this page for further updates.
Faculty of Education and Psychology
Faculty of Social Sciences
Welcome event for Eramus students
Time: 7 September, 2022 11.30 – 13.30
Location: ELTE Lágymányosi Campus Conference Hall
Faculty of Economics
Info session: workload, teaching methods, assessment, etc. + survival guide ​​​​​​​
Time: Monday, 5 September 10:30
Location: 1088 Budapest, Rákóczi út 7. - Q101 lecture hall