Orientation Week for International Students 2022/2023 Spring
ORIENTATION WEEK 2022/2023 SPRING (13 February - 17 February 2023)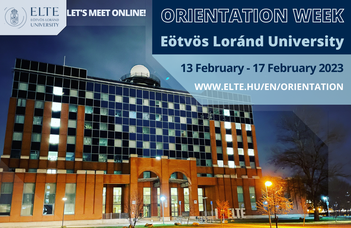 We welcome all our international students in the Spring semester of the 2022/23 Academic Year. Please note, that in accordance with the schedule of the current semester (which can be found here), the current orientation week will be held online. Nonetheless we would like to offer you an unforgettable experience in our welcome week events. Please, join us at this unconventional Orientation Week.
During the Orientation Week you will hear about:
ELTE and ELTE faculties in general
Administrative to-do's to get settled in Budapest (registration in Budapest, insurance) and to start your studies at ELTE (registration at the University, student ID)
Services provided by the University (e.g., library, language learning)
Ways to spend free time at ELTE (ESN ELTE, sports, university choir and orchestra, and many more)
The date of the Orientation week: 13 February - 17 February 2023
Please note the some programmes are held a bit earlier or later.

Welcome video from the Vice-Rector for International Affairs

Welcome video from international students studying at ELTE
Ambassador's speech

Brief introduction to ELTE
For Stipendium Hungaricum students

Virtual tours of faculties

Faculty programmes for the Orientation Week

Get to know ESN