Sports facilities
Sports facilities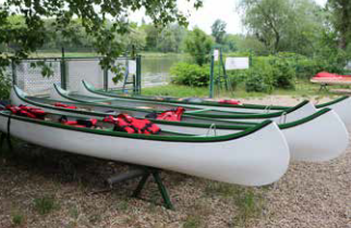 ELTE Sport Kft. provides the infrastructural background of sporting activities of the students and professors and workers of the University.
The company provides capacity for university citizens in five sports establishments – in the Sports Yards at 10/A. and 10/B. Bogdánfy street, in the Sports Yard in Mérnök Street, in the Water Sports Centre, and in the Gym in Tüskecsarnok– for educational, research and recreational sport activities as well.
Field reservation is available for one occassion or regularly organized trainings. For more details, please visit on the official website.
Sports Yards at 10/A. Bogdánfy street
Address: Budapest XI., Bogdánfy Ödön Str. 10/A
For football players, two artifcial turf football fields (20 by 40 metres) are available; they are outdoor in summer and are covered by an air-dome tent in winter. The 330 metres long modern tartan track can be used all year round. You can play tennis on three outdoor clay tennis courts from spring till late autumn.
Sports Yards at 10/B. Bogdánfy street
Address: Budapest XI., Bogdánfy Ödön Str. 10/B
Phone: 06-1- 209-0619
For students of the ELTE: running track, plastic covered track, gym, sport shall (suitable for tennis, badminton, football, basketball, handball, volleyball), covered tennis court, outdoor bitumen pitch (suitable for handball, basketball, football), outdoor tennis courts.
Gym in Tüskecsarnok
Address: Budapest XI., Magyar tudósok körútja 7.
In the parquet gym all indoor sporting activities can be organised, from small field football to basketball, volleyball and handball or badminton, for both recreational and competitive sport. It is also suitable for company sports days or company championships. The parquet gym welcomes all amateur or professional sports people.
Five high quality service rooms belong to the gym.
ELTE MÉRNÖK STREET SPORT CAMP
Address: Budapest XI., Mérnök Str. 35.
Here you can practise tennis, five-men football (green, bitumen, and hard pitch), handball, streetball, beach volleyball.
Water Sports Centre
The ELTE Water Sports Centre is situated next to the Soroksár fork of the Danube on the river bank; its features make it ideal for people doing water sports. In the boat storage it is possible to store boats for shorter or longer periods as well. If you do not have a boat, you can hire a canoe for three to five persons or a kayak for one or two persons.