A delegation of the Caspian University from Kazahstan visited ELTE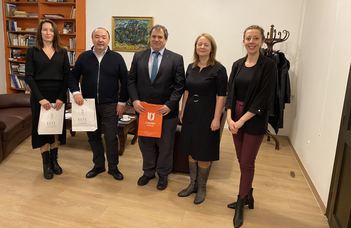 HU
On 16 November 2022, Rector Zholdasbek Nussenov, Oksana Kirichok (Vice-Rector for Academic Affairs), and Yuliya Kharkova (Head of the International Office) were received by Imre Hamar (Vice-Rector for International Affairs) and Eszter Knyihár (Head of the International Strategy Office) at ELTE. During the pleasant meeting, the parties discussed the potential ways of cooperation between the two universities.
Bilateral cooperation has existed between ELTE and several Kazakh universities since 2010, the most recent being a five-year agreement with KIMEP University concluded in 2021. The collaborations cover various fields of science and primarily enrich training courses at ELTE with guest lectures. Among others, the Institute of Research on Adult Education and Knowledge Management, the Department of Earth Sciences, the Institute of Biology, the Institute of Oriental Studies, and the Department of Turkic Studies cooperate with Kazakh universities such as the Kazakh National University, the Lev Gumilyov Eurasian National University, as well as Turan University, one of the first and largest non-state universities in Kazakhstan.
Eighty-six Kazakh students are currently pursuing tertiary studies in the framework of graduate, postgraduate, and doctoral studies at Eötvös Loránd University. Most of them are doing international management and international studies (16 students), or studying psychology and educational science (15 students) and languages (12 students). The Stipendium Hungaricum scholarship programme is a favourable opportunity for Kazakh students, as well.