A Prestigious Neuroscience Congress hosted by ELTE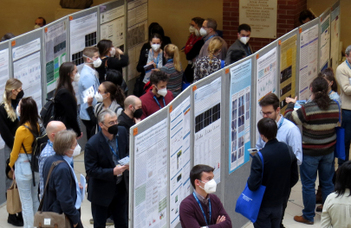 HU
The
International Neuroscience Meeting 2022 – IBRO Workshop
was held on the Lágymányos Campus on 27 and 28 January 2022. The event was organised by the Department of Physiology and Neurobiology at the ELTE Faculty of Science and the Hungarian Neuroscience Society.
The conference had 450 participants and the success was also reflected by the outstanding foreign and domestic speakers, as well as the 225 posters presented. Sixteen teachers and researchers, and twenty-nine students from our university presented their results. The papers delivered by ELTE contributors already attracted considerable interest on the spot, which therefore created a good basis for further scientific collaborations.
The satellite conference for young neuroscience researchers was held on the previous day, on 26 January. The papers delivered by HuNDoC students were followed by an audience of 120. Melinda Vitéz-Cservenák, research associate, and Attila Ignácz, PhD candidate, were members of the organising committee.
Árpád Dobolyi, university professor, and Katalin Schlett, habilitated associate professor, were chair and co-chair at the IBRO conference, respectively. The patrons of the conference were László Borhy, Rector of our university, and Imre Kacskovics, Dean of the Faculty of Science.
In addition to the university, the Science Patronage Programme of the NRDI Fund (MEC_SZ140942), Richter Gedeon Ltd., and the International Brain Research Organisation also made significant contributions to the organisation of the conference.
The professional summary of the findings of the IBRO conference are available here.