CHARM-EU celebrated its first Commencement Ceremony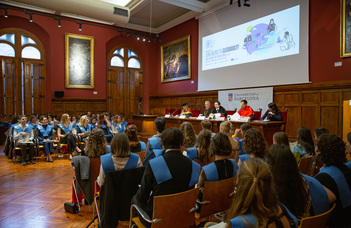 On 3 February 2023, students of the CHARM-EU programme Global Challenges for Sustainability became the first Master's graduates in the history of the European Universities initiative. The students received their certificates at the end of a final blended intensive programme. In parallel with the mobility week, the Alliance launched its new expansion project CHARM-EIGHT.
CHARM-EU held its first Commencement Ceremony on 3 February when the first graduates of the Alliance's joint Master's programme received their certificates in Barcelona. The innovative programme "Global Challenges for Sustainability" is the first accredited Master's degree under the criteria of the European Universities initiative. The ceremony was therefore not only a special occasion for the graduating students but was also a milestone in the history of European University alliances.
The ceremony was organised by the University of Barcelona as part of a final blended mobility programme full of events. Throughout the week, students participated in various learning activities such as workshops and field trips, panel discussions and a poster exhibition. They also presented their thesis projects (Capstone challenges) on which they have been working with their peers, mentors as well as external stakeholders during the final phase of the programme.
The mobility week and the master's programme concluded with the graduation ceremony. Rector Joan Guàrdia Olmos from the University of Barcelona, Rector László Borhy from ELTE, Vanessa Debiais-Sainton, Head of the European Commission's Higher Education Unit, Markus González Beilfuss, Deputy Secretary of State of the Spanish Ministry of Universities, CHARM-EU Academic Coordinator Marjanneke Vijge and Academic Director Catherine Comiskey all greeted and congratulated the graduating students. In his speech, Prof. László Borhy congratulated the graduating students and thanked them for their contribution in the co-creation and innovation process of CHARM-EU and for building the European University of the future.
In parallel with the final mobility week, colleagues from the partner universities of the Alliance were also in Barcelona. The partners discussed the main tasks for the work packages of the new CHARM-EIGHT expansion project launched in January 2023. While the Alliance focused on designing from scratch and testing during the first phase of collaboration, CHARM-EU will now focus on expanding its activities and its impact. The Alliance can build on the achievements and successes of its first project, to which ELTE has actively contributed through its leadership of the Mobility and Inclusion work packages and its active participation in other working groups.
CHARM-EU first Commencement Ceremony
CHARM-EU first Commencement Ceremony
From left to right: Catherine Comiskey, László Borhy, Joan Guàrdia Olmos, Markus González Beilfuss and Marjanneke Vijge
From left to right: Catherine Comiskey, László Borhy, Joan Guàrdia Olmos, Markus González Beilfuss and Marjanneke Vijge