CHARM-EU including ELTE selected on the first call of the "European Universities" initiative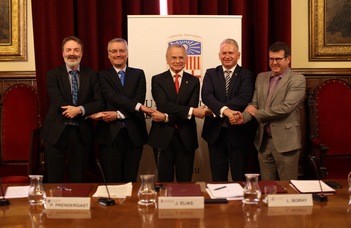 HU
As it was announced on 26 June 2019, the CHARM-EU consortium (
Ch
allenge-driven,
A
ccessible,
R
esearch-based,
M
obile
E
uropean
U
niversity) is one of the 17 higher education institutions selected by the European Commission from 54 applicants, based on the evaluation of 26 independent experts. The consortium consists of the five institutions: the University of Barcelona, Trinity College Dublin, the University of Montpellier, Utrecht University, and Eötvös Loránd University.
The European Council launched the European Universities Initiative in December 2017 in order to encourage competition among European higher education institutions and strengthen European identity. The Council encourages the member states to establish new universities working in cooperative ventures, where the challenges of the 21st century are approached through research traditions, educational experience and the innovative strategies of the institutions.
The first tender was announced in the framework of the Erasmus+ program with a financial allocation of 30 million Euros, which was later raised to 60 and finally to 85 million Euros because of the great success of the new initiative.
ELTE applied for the tender as a member of the CHARM European University (CHARM-EU, Challenge-driven, Accessible, Research-based, Mobile European University), launching on 15 January 2019 with an inter-institutional agreement of the participating universities. The CHARM European University convention is a project-based agreement between the universities with the purpose of creating an interdisciplinary European University focusing on challenge-driven education, accessible to the widest possible audience, using the centuries-long research experience of the partners, and providing a large variety of mobility opportunities to participating students, academic and non-academic staff.
The results of the tender were announced on 26th June 2019. The 17 supported European Universities were selected from 54 applicants consisting of 114 higher education institutions from 24 EU member states. 26 independent experts including rectors, professors and researchers carried out the evaluation of the proposals. There are also other Hungarian universities participating in selected consortia. As Tibor Navracsics, Commissioner for Education, Culture, Youth and Sport noted at the announcement, the first 17 European Universities will provide an example for further co-operations of a similar kind, providing opportunities for the coming generations of students to experience Europe by studying in different countries.