Cyber security at sea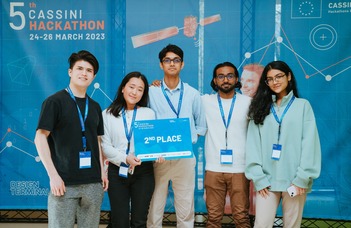 HU
The team of the ELTE Faculty of Informatics won a silver medal in the Hungarian round of the Space for Defence and Security hackathon.
The 5th CASSINI Hackathon: Space for Defence & Security competition was held at the end of March. The theme of this year's competition was the development of new digital solutions for defence and security using space data. The challenges covered cross-terrain mobility, logistics and route planning, maritime threats, protecting critical infrastructure, and disaster mitigation. At the hackathon, organised simultaneously in ten cities in Europe, the teams developed innovative solutions based on Copernicus Earth observation data, as well as Galileo and EGNOS satellite positioning and navigation systems.
The members of the ELTE team (MD Jaodun Muntasir, Mohammed Efaz, Kohiro Sannomiya, Nazifa Nazrul Rodoshi, and Masato Ito) are all first-year students in the Computer Science BSc course and entered the competition with their comprehensive maritime defence system called Poseidon AI. They finished as runners-up in the Hungarian round.
Cyber-attacks in the maritime industry and infrastructure are getting more and more frequent and sophisticated. It is imperative, therefore, that shipping companies worldwide invest in comprehensive cyber security solutions to protect their assets and ensure the safe and efficient transportation of goods. Poseidon AI offers a comprehensive solution to the risks of maritime cyber security using the Generative Adversarial Network (GAN) machine learning model based on digital twin AI systems called HERO and VILLAIN. HERO defends the IT system of the ship against attacks, while VILLAIN simulates operations and designs perfect attacks which help HERO learn and prepare for defence. Using simulations and real ship data, as well as Galileo and Copernicus datasets, HERO provides outstanding and innovative functions for defence and security.
The EU CASSINI Space Entrepreneurship Initiative space industry programme aims to strengthen Europe's defence and security capabilities with the help of EU space technology. Innovators of digital solutions based on geospatial data and services available in the European and national defence and military industries presented themselves at the international competition of ideas initiated by the European Commission. The Hungarian round was held by Design Terminal at Ludovika.
Source: ELTE Faculty of Informatics