EIT Culture & Creativity's first in-person partner meeting in Cologne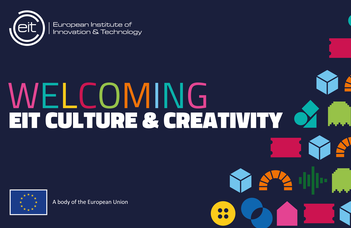 HU
Almost 160 people – including ELTE's delegation of three colleagues – participated in the meeting, focusing on the most important ambitions and actions for the coming years.
EIT Culture & Creativity is the European Institute of Innovation and Technology's (EIT) newest, 9th Knowledge and Innovation Community (KIC) with the goal to strengthen Europe's Cultural & Creative Sectors and Industries (CCSIs). ELTE is the only Hungarian founding member.
The community's first in-person partner meeting took place on the 18th and 19th November in Cologne, Germany. Participants were welcomed by Christian Ehler, Member of European Parliament, as well as by Henriette Reker, Lord Mayor of the City of Cologne and Manfred Janssen, Managing Director of Cologne Business Promotion Agency with respect to the fact that the EIT Culture & Creativity headquarters will be located in Cologne. The community's goals and recent achievements were presented by Bernd Fesel, Interim Chief Executive Officer of EIT Culture & Creativity.
During the two-day event, the participants set the most important missions of the community for the coming year. 2023 will be dedicated to developing the community's organisational, legal and financial framework, as well as preparing programs that will launch in 2024.
Csaba Vasvári (ELTE Center for Innovation), Szilvia Szöllősi (University Strategy Office) and Gábor Sonkoly (ELTE Faculty of Humanities) at the meeting in Cologne
10 Action Programmes are linked to the strategic objectives developed during the past few months – education, innovation programs, business development, social impact, policy. The new ecosystem also develops long-term programs along key horizontal themes and generates collaborations, relying on European Union synergies in connection with relationships and financing.
Another important mission of the community is to provide a common platform to relevant business, academic, social and governmental partners in the CCSI sector in which EIT Culture & Creativity's 6 regional hubs, called Co-Location Centres (CLCs) will play a major role. During the meeting in Cologne, partners hosting the CLCs as well as EIT Culture & Creativity's strategic collaboration plans were also presented.
Eötvös Loránd University was represented by a delegation with 3 members - Gábor Sonkoly, professor at ELTE Faculty of Humanities, Szilvia Szöllősi, head of the University Strategy Office and Csaba Vasvári, colleague of the ELTE Center for Innovation and coordinator of the "Cultural Innovation, Creative Industry Thematic Forum" of the National Laboratory for Social Innovations (TINLAB)". The members of the delegation actively participated in the discussions and workshops, exploring important connections and possibilities for cooperation in the coming years as well as reviewing the EIT Culture & Creativity-related tasks related the University.