ELTE Delegation in China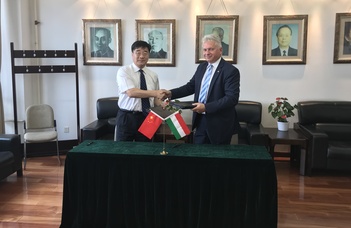 HU
Representatives of ELTE, Rector László Borhy, Imre Hamar, Vice-Rector for International Affairs, and Qiuyue Ye, Rector's Commissioner for Chinese Affairs, visited between 4th and 11th July 2018 several leading Chinese universities. During its visit, ELTE delegation successfully expanded its partnership network in China.
At Peking University, where ELTE delegation was welcomed by Rector Jianhua Lin, the leaders of the two institutions signed a Memorandum of Understanding. Already prior to this, ELTE and Peking University has been cooperating within the Erasmus+ Inter-institutional Agreement framework that enables ELTE students to study in China. The two universities received Erasmus+ International Credit Mobility funding which means that besides Fudan University and East China Normal University, ELTE cooperates within these frames also with Peking University.
A Memorandum of Understanding and an Agreement on Student Exchange were signed at Zhejiang University which is considered to be one of the leading higher education institutions in Asia. Both Peking University and Zhejiang University are well acclaimed universities not only in China, but also beyond Chinese borders. Based on international rankings such as QS World University Rankings 2018, they belong to the best higher education institutions in the world: Peking University is currently ranked 38th, Zhejiang University 87th.
At China University of Political Science and Law where the China-EU School of Law was established in 2008, the existing cooperation was extended with the signing of an Agreement on Academic Exchange. Thanks to this flourishing partnership, one ELTE PhD student received a scholarship to study at this prestigious university.
The delegation also visited Beijing Foreign Studies University, the partner university of ELTE Confucius Institute. At Beijing Foreign Studies University where a long-established Hungarian Language program is taught, the delegation led by Rector Borhy agreed on a student exchange program confirmed by the signing of an exchange agreement with the Chinese representative.
Successful was also the visit to Renmin University of China where Rector Borhy and the Chinese Rector Wei Liu discussed the possibilities of partnership and signed a Memorandum of Agreement on Academic Co-operation as well as a more specific agreement concerning the student exchange. Renmin University of China is a well-known university with strong profile especially in Humanities. In addition, the delegation has visited the Hanban (Office of Chinese Language Council International), where Hanban's Deputy Director-General Guocheng Zhao assured the ELTE representatives of his continued support regarding the Training Centre for Chinese Language Teachers for Central and Eastern Europe.
During the official visit in China, ELTE delegation negotiated with the leaders of several universities that belong to the most prestigious higher education institutions in the world. ELTE strongly encourages its departments to apply for Erasmus+ Mobility Programs with these universities.
ELTE delegation in China
ELTE delegation in China