ELTE is a founding member of EIT Culture & Creativity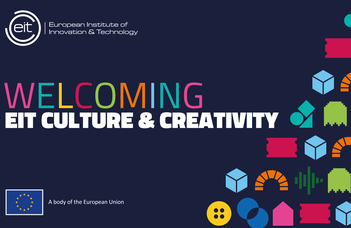 HU
Following months of preparations and proposal evaluations, the European Institute of Innovation and Technology (EIT) announced the winning team set to build EIT Culture & Creativity. The Governing Board of the EIT has selected the ICE Partnership – including ELTE as the only Hungarian partner - to establish the new innovation community. The EIT's ninth Innovation Community is designed to strengthen and transform Europe's Cultural and Creative Sectors and Industries (CCSI) by connecting creatives and organisations to Europe's largest innovation network.
Together with their leading partners, the Innovation Community offers entrepreneurial education degrees and courses as well as business creation and acceleration services and innovation driven research projects. The new EIT Culture & Creativity will capitalise on the unique richness of European diversity to guarantee that creatives are ingrained in the pan-European Innovation Ecosystem. "This will be an open innovation community: open to entrepreneurs, artists, freelancers, social innovators, cultural agents. Innovation and change are possible when the all players -the large and the small, for profit and non-profit - meet at eye level in collaboration spaces for addressing pressing societal challenges" concluded Bernd Fesel, Interim CEO and spokesperson of the winning team. The EIT Culture & Creativity is designed to unlock the latent value of the cultural and creative sectors and industries to become a gamer changer for Europe's Green, Digital and Social Transformation.
The 50-member Partnership is made up of prominent actors in the higher education, research, business and public sectors, spanning twenty European countries from Bulgaria to Ireland, from Greece to Sweden. The consortium is led by Fraunhofer-Gesellschaft, one of the world's largest applied research organizations employing 30,000 researchers, with research activity worth almost € 3 billion a year.
Committed to culture-based social innovation and digital cultural heritage by being the coordinator of the National Laboratory for Social Innovation (TINLAB) and the Digital Heritage National Laboratory (DH-LAB), and based on its educational and research excellence in the fields of Social Sciences and Humanities, Education as well as Informatics, ELTE, as the only Hungarian founding member of EIT Culture & Creativity, is ready to actively contribute to the new Innovation Community with an interdisciplinary approach.
Thus, ELTE is now active partner in two EIT Innovation Communities: beside EIT Culture & Creativity, the University is member of EIT Digital since 2012. Knowledge, experience and best practices gathered in this framework will be also be applied to the benefit of the new innovation community.
More details about EIT Culture&Creativity here.