ELTE Sport week 2021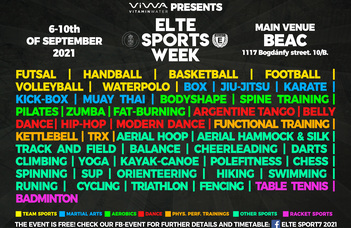 Start your semester with sports at BEAC! This academic year also begins with BEAC Sports Week supported by ELTE and Viwa Vitaminwater.
The open week organized on 6-10 September is a good opportunity to get to know the sport-selection of the university sports club. Come and train with our young trainers, sport scholars, fellow freshmen, friends and colleagues!
Main venue: Two minutes walking from ELTE Lágymányos Campus, at the Bogdánfy Street ELTE Sports Complex (Budapest XI., Bogdánfy street 10/B).
Some introduction trainings of certain sport branches will be organized at other locations. Further information can be found under the Facebook event of ELTE Sports Week 2021.
Find out which sport is the most suitable for you! Those who are interested can try out more than 40 sport branches at Bogdánfy Street ELTE Sports Camp and at further locations. The trainings are led by sports organizers, sports scholars of ELTE, and by the trainers of the BEAC departments. During the open week you can try out all the trainings for free and you can even get to know more than one different branches. The event is for ELTE students and colleagues in the first place, but anyone who is interested is free to come.
Detailed timetable will be available at the Facebook event.
Contact: BEAC office (06-1-209-0617;
szervezes@beac.elte.hu
)