ELTE students of media law succeed again in Oxford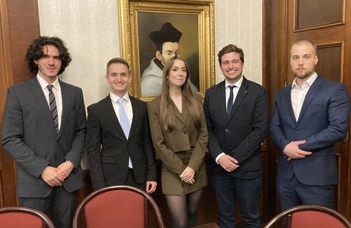 HU
The results obtained at the South-East Europe Regional Rounds held in Budapest in December 2021 enabled the student team of the ELTE Faculty of Law to take part again in the international rounds of the Monroe E. Price Media Law Moot Court Competition, where they finished as runner-up from Europe.
The final round of the competition was organised in Oxford between 6th and 10th June 2022, and twenty-four teams compared their knowledge with each other. First, on the side of the plaintiff, the ELTE Team competed with the team of the National University of Advanced Legal Studies from India. Then, representing the defendant, they contended with the team of the University of Malaya, the winner of the Asia-Pacific Regional Rounds. Finally, representing the plaintiff again, they clashed with the team of the University of Latvia, the runner-up of the North-East Europe Regional Rounds. In the competitions, they defeated the Indian and Malay teams, and lost to the Latvian team.
The ELTE Team finished tenth place, which made them the second-best team among the European competitors – after the University of Sarajevo.
This year's competition case was connected to the elections held in Sargon. Bos, the country's presidential candidate, and a popular influencer called Darl (a well-known Bos supporter), posted provocative statements on the country's most popular social media platform about the country's biggest religion and its practices, and even made allegations about election fraud. When this prompted a group to attack the Election Commission's office, Natter first temporarily suspended and then permanently deleted Bos's account for hate speech and disinformation about election facts, and took down 55 posts made by Darl, as well.
The legal case raised several questions to be investigated by the contestants. Are there any limits to the freedom of opinion? May a social media site deplatform the president or a prominent influencer of a given country? To what extent can the community principles of a social media site be considered a source of law? When does a message count as a call for violence? For the answers, the contestants had to study the case law of international human rights courts as well as national legislation.
The members of the ELTE Team were János Bálint, Kende Kenéz, Szabina Kovács, Gergely Lendvai, and György Pollák. Their coach was Gergely Gosztonyi, assistant professor at the ELTE Faculty of Law, whose work was helped by Dorina Gyetván and Attila Tatár Ph.D. candidates.