European archeologists meet at ELTE in 2020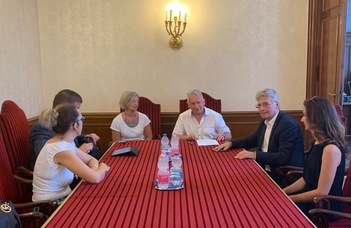 HU
Eötvös Loránd University has signed a cooperation agreement with the Hungarian National Museum and the Várkapitányság Nonprofit Zrt. to organize the 26th (annual) meeting of the European Association of Archaeologists. Over 2000 European professionals are expected to attend the conference.
The aims of the European Association of Archaeologists (EAA), founded in 1994, are to promote the development of archaeological research in Europe, to promote the management and interpretation of the European archaeological heritage, to develop professional guidelines for archaeological work, and to promote the interests of professional archaeologists. The association organises annual meetings for its members to discuss current issues in the profession, adapting the programme to local conditions.
In August 2020, the EAA holds its 26th annual meeting in Budapest, and more than 2,000 delegates are expected for the event.
The motto of the conference in Budapest is "Networking!".
As the call of the EAA describes, Budapest is located at the centre of the Pannonian Basin, in an area where there has always been a lot of transit movements, and various cultures have met here. Hungary was already a "communications centre" in the past, and still holds this position – hence the rich diversity of Hungarian heritage. "Networking," which is an ever-present characteristic of human societies, has become a particularly important feature of trans-modern society due to globalisation. Archaeology proves this more than any other discipline: the ties existing between materials and institutions also bind us to our reality.
The main organiser of the conference is the Eötvös Loránd University, in cooperation with the Hungarian National Museum and the Várkapitányság Nonprofit Zrt. In Budapest, the last major international conference for archaeologists was held in 1876. In 2020, the Eötvös Loránd University can demonstrate its commitment to archaeology and European cultural heritage in completely different circumstances.
On 12 August 2019, the leaders of the organising institutions signed a cooperation agreement at the ELTE Rector's Office. The signing ceremony was attended by László Borhy, rector, and Alexandra Anders, senior research fellow, on behalf of ELTE; by Benedek Varga, director general, and Szilvia Fábián, head of department, on behalf of the Hungarian National Museum; as well as by Bence Madaras, chief executive officer, and Eszter Kreiter, director, on behalf of the Várkapitányság Nonprofit Zrt.
For further information about the conference, click here.