International Student Ambassador Meeting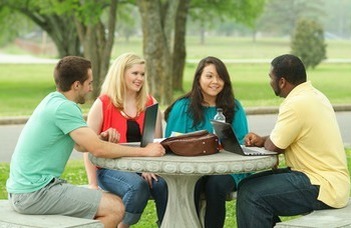 Student Ambassadors play a crucial role in representing ELTE as well as in student recruitment. They represent the University at student recruitment fairs, ELTE's international events (Orientation Week, Open Day) and in videos of the University.
Their introduction will be available on ELTE's website (https://www.elte.hu/en/international-student-ambassadors) as well as their e-mail address while they are in the position, so that prospective students can get in touch with them.
Our Student Ambassadors will share stories, pictures, and videos on ELTE's social media pages (mainly on Facebook and Instagram). They will post in the following topics – photos of Budapest and Hungarian countryside, landmarks, city life; tips: what to visit and see in Hungary; introduction of traditions and habits from their home country and practical matters.
This year, ELTE has 25 International Student Ambassadors so far and they represent 7 faculties. They come from the following countries – India, Myanmar, Tunisia, Vietnam, Brazil, Sudan, Ghana, China, Moldova, Georgia, Pakistan, Indonesia, Turkey, Egypt, and Morocco.
This academic year, the first Student Ambassador meeting was held on 16 November 2021. During the discussion, colleagues from the International Strategy Office detailed the role and tasks of the Student Ambassadors and some of the ambassadors who were in the position in the last academic year talked about their tasks and responsibilities. The students got to know each other a little bit, they participated in a quiz about ELTE and Hungary and at the end of the meeting, they received gift packages.