International Student Ambassadors' Meeting 2022/2023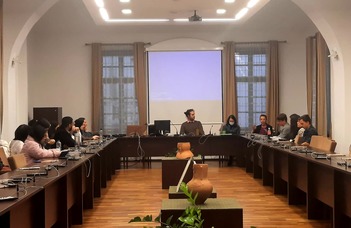 This academic year, the first Student Ambassadors' meeting was held on 18 October 2022.
In the first section, colleagues from the International Strategy Office detailed the role and tasks of the Student Ambassadors. The students, who originally come from 19 different countries, had the chance to participate in a brief introductory game, and Ambassadors who were in position in the last academic year presented the projects they were involved in previously.
For the second part of the meeting, members of the EHÖK Committee of Foreign Affairs engaged in a discussion with the Student Ambassadors. The purpose of this bilateral meeting was to bring the work of the two groups closer together, since they have fundamentally the same goal, namely to ensure that student voices are heard, represented and taken into account so that the University develops to the benefit of all its students. We hope that this recent meeting will lead to a fruitful relationship in the future that will contribute to a yet more diverse and inclusive atmosphere at the University.
The introductory bios of the International Student Ambassadors will be available on ELTE's website (https://www.elte.hu/en/international-student-ambassadors) as well as their e-mail address while they are in the position so that prospective students can get in touch with them.