International Student Ambassadors' Training and Dinner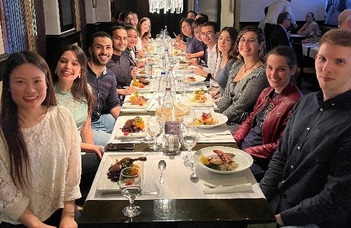 Every academic year, new International Student Ambassadors get chosen to represent ELTE and help prospective students of the University by answering their questions from students' point of view. Here are the International Student Ambassadors of the academic year 2021/2022 as well as the Ambassadors from past years:
https://www.elte.hu/en/international-student-ambassadors
.
At the beginning of May, colleagues from ELTE's Career Centre held a training for the Student Ambassadors. The training was led by Gabriella Kassa, Counselling Psychologist and Trainer, and Patrik Németh, Training Coordinator. The topic of the training was Time Management. Afterwards, the Ambassadors enjoyed a team dinner together, while getting to know each other better.
During the academic year, the Ambassadors have been creating content to post on ELTE's social media sites about the following topics, among others: Budapest and Hungarian countryside, landmarks, city life; tips: what to visit and see in Hungary; introduction of traditions and habits from their home country and practical matters. These get shared on the University's international Facebook and Instagram pages. You can check all the posts out on the following links: https://www.facebook.com/elteinternational, https://www.instagram.com/elteinternational/?hl=en. As for more details, please visit the website https://www.elte.hu/en/student-ambassadors-2021-2022 where you can find information about further projects and highlights under "STUDENT AMBASSADOR NEWS".
If you are currently enrolled as a student in the second/third/fourth year of any degree program at ELTE and you want to share your positive experience with prospective students, you are a perfect candidate to be an ELTE International Student Ambassador.
Make sure to stay up to date on the following page - https://www.elte.hu/en/calls-for-applications, where the call for application for the International Student Ambassador position will be posted in early September!