International summer programs at ELTE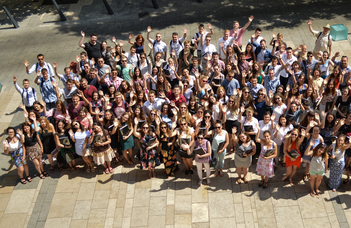 During the previous years, ELTE has established the tradition of organizing high-quality summer university programs for international students to help them improve their knowledge while having fun in a lively city with new friends to meet.
The aim of the ELTE Hungarian Summer University in the Carpathian Basin (11-16 July 2017) was a great opportunity for Hungarian speaking university students from outside the border to improve their professional knowledge, while participating in various cultural events together, such as visiting the Petőfi Literary Museum or the Busó House at Mohács. The program is attracting more and more participants every year, which tendency only became stronger this year with 150 students.
The Summer University of Hungarian Language and Culture (31 July – 25 August 2017) brought together many interested individuals from diverse geographical, cultural, and academic backgrounds for an intensive course on Hungarian language and culture in Budapest. Besides this, participants had the opportunity to find out more about Hungarian culture and test their new language skills during the afternoon programs, while walking around Balatonfüred, Gödöllő or visiting the Elizabeth Lookout. Thanks to the diverse profile of the summer university, all in all more than 100 students participated this year, not only from Europe but from all over the world, including Asia, the United States and Australia as well.
The ELTE Budapest Summer University (14-25 August 2017) offered two mini courses in English in the topics of international law and sociology. The aim of these courses was to help further develop the already existing knowledge of the participants during the two weeks.
This joint University of Tübingen – Babes-Bolyai University – ELTE Summer Academy (3-10 September 2017) is a three year project. With the participation of doctoral students it examines the history of the Central-European region in three different eras of the history, from the 19th century until nowadays. This year the Summer Academy was held at ELTE under the topic: "Nation/State/Diversity in the Danube Region, 1918–1948" .
Besides the above mentioned summer universities, the Faculty of Education and Psychology and the Institute of Mathematics also organized summer programs – the latter for the fifth time.
Summer programs for 2018 will be published on the university website in January.
Summer Programs 2017
Summer Programs 2017