New ELTE Alumni Organization Website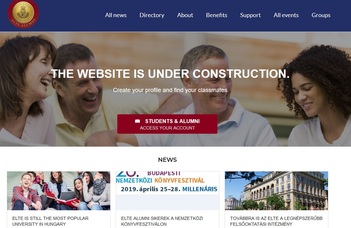 HU
We are pleased to announce the launch of the ELTE Alumni Organization's new communication platform – the new alumni website – which will allow registered alumni members to personalize how they want to keep in touch with their Alma Mater, Alumni Chapters, and other former ELTE students.
The ELTE Alumni Center was established two years ago, and one of its main goals was to acquire a new, up-to-date multilingual Alumni Network Management System. These efforts have been successful, the new bilingual and GDPR compatible community platform meets the needs of the alumni community. With the help of the new website former classmates or users with similar interest will be able to find each other easily.
As users can create their own groups, contacting and networking are also possible. Within groups they can share their ideas, results, experiences or receive information about events, courses, calls that might be important to them. The system will be expanded with new modules every six months.
Form your alumni life as you wish!
Users will have the opportunity to follow the activities of the Alumni Organization, the University Programs of the Alumni Center, and events organized by Faculties. They can also create their own meetings, events and groups and they can open forums for public conversations. Basic social features such as messaging, commenting, and likes will be available as well. Thank to news-, profile-, and group settings, users can customize in which way and how much they want to learn about the University's Alumni Life and take part in it.
We will inform you about the exact date of the launch soon. Follow our news and get in touch with us through the new platform!