Orientation Days: The new international students have arrived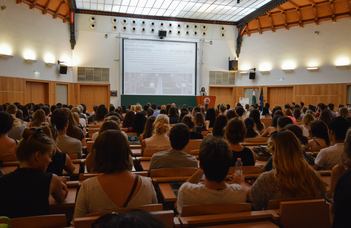 HU
1-9 September the International Office and
ESN ELTE
(Erasmus Student Network, ELTE) organized a week-long event called
Orientation Days
for newly arrived international students at ELTE. The event offered a perfect opportunity to international students to get an overview on campus life and study as an ELTE student in Budapest.
On the first days of the program the international students met their faculty coordinators who shared useful information on practical matters and tasks during their studies. Following the program, ESN ELTE mentors organized Campus Tours in which the newly arrived students had a chance to explore the buildings, libraries, cafés and restaurants and the most important places of their faculties.
On 8 September around 400 international students gathered in the main building of ELTE to participate on the Official Welcome ceremony and Information Market organized by the International Office. The ceremony has started with the performance of the Béla Bartók University Choir, which was followed by the welcome speech of Dr Péter Szalay, Vice-Rector for Science. Nóra Gaál, Head of the International Office introduced ELTE, its prominent position in the scientific and academic world in Hungary and in Central Europe. ESN ELTE, the main student organization assisting international students at ELTE introduced its mentor program and the social and cultural events offered to the students during their stay in Budapest. Students could also learn about the cultural life of Budapest, the main programs in the city during the spring semester, and also about services offered to international students at ELTE. The welcome ceremony ended with the performance of the Folk Dance Group, Eötvös Art Ensemble.
Afterwards, on the Information Market, the international students had a chance to meet representatives of the student organizations and student services. They could sign up for the Hungarian and the English language courses, and the programs of ESN ELTE and also met colleagues from the BEAC sports association, Eötvös Art Ensemble, and Together for Environmental Consciousness and played a game about Budapest. Students could ask directly colleagues from the Office of Immigration and Nationality and the Housing Office about administrative issues related to their stay in Hungary. During the afternoon, the Quaestura Student Services Office handled international students' requests, in extra opening hours. The program ended with the Budapest Scavenger Hunt organized by ESN ELTE.
On the following day, the students had a chance to participate on "Intercultural Introduction", in which they got an overview on the difficulties being an international student in Hungary and how they can handle this situation during their studies. In the afternoon, "Hungarian Culture Fair" offered a perfect occasion to learn some Hungarian cultural customs and traditions. The day ended with the tours of ESN ELTE to the Hungarian Parliament and the Buda Castle.
Orientation Days for International Students Autumn Semester 2016-2017
Orientation Days for International Students Autumn Semester 2016-2017