Participative education as a social innovation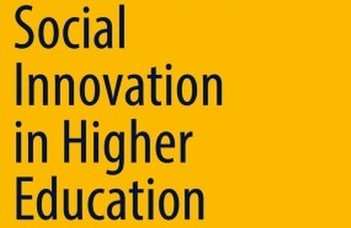 HU
The Gusztáv Bárczi Faculty of Special Education at Eötvös Loránd University has been offering participative education for almost a decade, which is still considered a novelty throughout the world. The special methodology has been recently presented in Springer's English-language publication collecting innovations in higher education.
A study written by the researchers of the Disability Studies and Social Innovation Lab at Bárczi has also been included in the recent English-language volume of the Springer Link Publishing House. The collection of studies Social Innovation in Higher Education. Landscape, Practices, and Opportunities edited by Carmen Păunescu, Katri-Liis Lepik, and Nicholas Spencer presents European research development programmes in higher education that emphasise the value-creating capacity of local communities.
The chapter presenting social innovations in higher education in the field of disability studies is authored by Csilla Cserti-Szauer, teaching assistant, Anikó Sándor, assistant professor, Vanda Katona, associate professor, and György Könczei, university full professor. The authors summarise the results of participative education, research, and innovation at the ELTE Faculty of Special Education going back to nearly a decade. At the faculty, instructors with and without disabilities teach in special education and pedagogical undergraduate courses using a special methodology. In addition to teaching activities, joint research is being carried out, for example, to expand the personal assistance service. The award-winning 'We Teach Together! Participative Methodology in Higher Education' connected to the study in multiple ways is among the announced know-hows of ELTE.
The authors aim to strengthen the inclusive feature of higher education, where teacher and researcher innovators with disabilities contribute to the training of future professionals as equal partners by sharing their personal experiences, and they act as resources in the innovation processes.