Rawad Zeineddine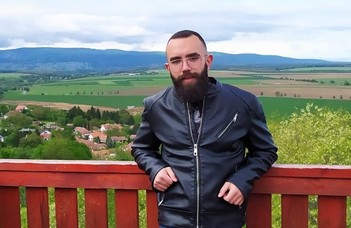 Study program: Mechanical Engineering BSc
Country: Lebanon
Scholarship:
Period of studies at ELTE: 2018.09.03 - 2022.06.30
"Welcoming, Inspiring, Unique"
What stood out to you about ELTE?
ELTE is one of the oldest and highest ranked university among the universities in Hungary as well as in Europe. The Faculty of Informatics includes a crew of excellent professors with many years of experience and knowledge who create the optimal conditions for every student to learn, and maximize their potential.
What makes studying at ELTE so great?
The support and help provided by the professors, the interesting courses, the equipment and machines in the laboratories and workshops are great and amazing. In addition, the location of the faculty in Szombathely is very peaceful and friendly that helps me learn and also expand my knowledge about the culture.
What are / were your challenges in your study program?
Learning the Hungarian language was a challenge for me due to its difficulty. The high number of courses per semester and the way of conducting the exams.
How did you overcome these challenges?
After making Hungarian friends learning the language became easier. Regarding the courses, I started managing my time and studying on a daily basis, which has helped me a lot to overcome this problem. Facing something for the first time is not easy but after you get used to it, it becomes normal and you understand the system, and this is how I managed to face my exams, especially the oral ones which I think is a really good way for the students to learn how to express their knowledge in the exam.
How would you describe ELTE in three words?
Welcoming, Inspiring, Unique.
How do you think your degree will help you in your life and career?
Due to the fact that I graduated from ELTE, I have a priority to be accepted in any company due to the reputation of the university. It will help me enhance my confidence in my abilities and teach me that I can accomplish all of my aspirations with hard work but also with a positive attitude towards life. Moreover, the degree that I will get will be the basic foundation for what I am going to achieve in the future.
Do you have any recommendations for future students at ELTE?
Listen to that little voice inside you that says, "I can do this". Believe in yourself. Realize that school is hard work. Enjoy your time on campus, make good relations with professors, and attend the events organized by the university – it is a good opportunity to meet people and make friends.