Summer at ELTE Botanical Garden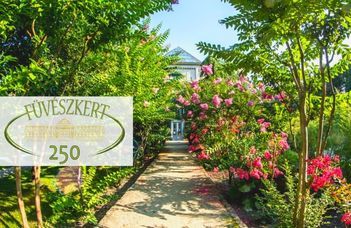 HU
The botanical garden is celebrating its 250th birthday this year. The garden awaits visitors with a wide range of programs: the greenhouses can be visited for an hour a day, children's' activities and guided walks have resumed. A community fundraiser has been launched to for the anniversary celebration in September, and sponsors are welcomed.
According to the latest regulations, the outside area of ​​the Botanical Garden can be visited all day during the opening hours without an immunity certificate. Greenhouses are already open to visitors with a certificate, once a day, for one hour. The orangery is open from 11:00 until 11:30 and the show house is open to visitors from 11:30 until 12:00.
The Szamóca Gardening School reopened on 12 June, children between the ages of 3 and 10 can garden with the guidance of experts of the Botanical Garden.
In June, an exhibition of orchids and bromeliads was organized by the Hungarian Orchid Society, where in addition to the plants of the botanical garden, visitors could see beautiful plants from the collections of members as well as orchids and bromeliads. The orangery and the Victoria House will be closed during the exhibition, only open-air venues can be visited.
Visitors can take part in guided tours once again: in June, they could learn about carnivorous plants and ferns.
In 2021, the Eötvös Loránd University Botanical Garden will celebrate the 250th anniversary of its foundation. The anniversary is going to be memorable, with an outstanding series of programs. An exhibition is going to be held at the opening in September, which will display the history of the garden. To organize the exhibition and to create the information boards, a fundraiser has been organized, and sponsors are welcomed. Sponsors will receive an orchid or a carnivorous plant as a gift if these are available. You can join the fundraising here.
As part of the series of events, they are organizing a thematic light festival as well, called "Garden of Light" ("Fénykert"), as well as night walks with analogue and digital elements. Thanks to the projectors, plants would come to life, revealing their unique shape and fascinating texture. They are awaiting sponsors for the night walks as well, contact person: Zsuzsa Szakács-Nagy.
The Botanical Garden is open in the summer from 09:00 until 17:00.