Summer University of Hungarian Language and Culture 2016 started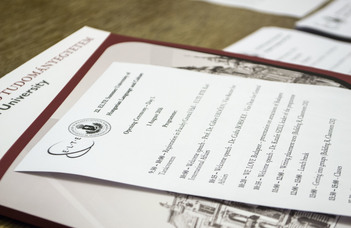 HU
It has been a long tradition for many decades that Trefort Campus becomes a lively hub of ELTE, full of international students during the Summer University of Hungarian Language and Culture. This year, around a hundred participants take part in the summer university. Classes started on 1 August 2016.
During the opening ceremony Prof. Dr. Gábor Erdődy, Vice-Rector for International Affairs, Dr. Csaba Borsodi, Vice-Dean for General Affairs at the Faculty of Humanities, ELTE and Dr. Katalin Szili, Head of the Department of Hungarian as a Foreign Language, Program Leader of the summer university gave welcome speeches. A short presentation about cultural and leisure activities in Budapest was also given to participants by We Love Budapest.
During the four weeks of the summer university (between 1 - 26 August 2016) participants study Hungarian language in small groups from beginner to advanced levels. All qualified and experienced teachers graduated from the Department of Hungarian as a Foreign Language, Faculty of Humanities, ELTE. Participants can also attend interesting lectures on Hungarian culture, history, and art presented by teachers and researchers at ELTE. In the afternoons and at the weekends, participants can learn about Budapest and Hungary on cultural programs, such as organized tours, museum visits, and one-day excursions.
For this year's event, around a hundred students arrived at ELTE from twenty-seven countries all over the world – most of them from Germany, China, the United States, Ukraine, Great Britain, Japan, and Poland.