The "Buffet" sports course was presented in Prague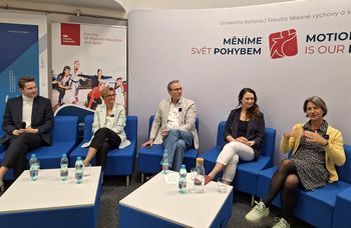 HU
A panel discussion on health promotion schemes at universities and the importance of sports was held on 10 October. The event was organised as part of the programmes held by the CENTRAL Network, a partnership among five renowned Central European universities. At the forum hosted by Charles University in Prague, university teachers from the ELTE Faculty of Education and Psychology also presented good practices.
The Central European Network for Teaching and Research in Academic Liaison (CENTRAL) was established as a partnership of top universities in five countries, namely Austria, the Czech Republic, Germany, Hungary, and Poland. The Hungarian member institution of the network is Eötvös Loránd University. Under the umbrella of the CENTRAL Network, the member institutions undertake various teaching and research activities in all areas.
At the panel discussion entitled "Get Healthy with CENTRAL" hosted by the Creative Centre of the Faculty of Physical Education and Sport at Charles University, various topics were explored, including the physical and mental health of university students, the components of health promotion at universities, and the possibilities of generating motivation for physical activities.
At the forum, ELTE was represented by Katalin Kovács and Szilvia Boros, teachers and researchers at the Institute of Health Promotion and Sport Sciences at the Faculty of Education and Psychology. In their lecture, they covered the relevance of health assessments, the unfavourable indicators of university students' mental and physical state, as well as the available best practices to improve motivation for physical activity among students.
The participants of the round table agreed that it is hardly possible to lead a balanced, healthy lifestyle without doing sports. In this context, ELTE presented the highly popular "buffet" sports course offered as part of the general physical education curriculum for students. In brief,
this means that the students may choose different forms of exercise even every week over a semester
and can fulfil the course requirements anytime, anywhere.
Being the host, the Faculty of Physical Education and Sports Science at Charles University demonstrated a well-established programme in practice, as well. Twice per academic year, a faculty footrace is organised in the afternoon, where staff members and students compete with one another at a fixed distance. The community footrace is always connected to a current event. Last year, for example, they figuratively ran to Turkey to help the victims of the earthquake, and before that, the goal was to reach Kyiv with a similar humanitarian goal. This time, they were heading for Paris, the location of the 33rd Olympic Games, to which ELTE teachers also contributed by covering nearly twenty kilometres.