The CHARM-EU Mobility Network Becomes a Reality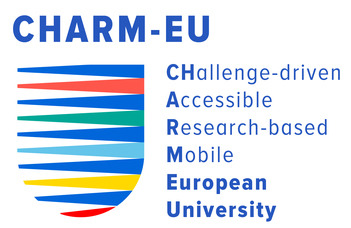 HU
Partner institutions of the CHARM-EU Alliance have created the CHARM-EU Mobility Network to provide opportunities for inter-institutional mobility of students, teachers, and doctoral candidates.
On 14 December 2022 during the Alliance's Annual Conference in Barcelona, the leaders of the eight CHARM-EU partner universities, including ELTE, announced that they have signed a multilateral agreement to boost mobility between their institutions. The Erasmus+ agreement was inspired by the successful Student Exchange Network already in place within the Coimbra Group, the association of 41 long-established European universities.
The new agreement means that the founding universities of the Alliance (the University of Barcelona (coordinator), Eötvös Loránd University Budapest, the University of Montpellier, Trinity College Dublin, and University of Utrecht) as well as its new partners (Åbo Akademi University, the University of Würzburg and the Ruhr West University of Applied Sciences) commit to work together to promote student mobility between their institutions on the basis of the quality requirements of the Erasmus Charter for Higher Education in all aspects related to the organisation and management of the mobility (and in particular the recognition of the credits awarded to students by the partner institution). In addition to student mobility, the CHARM-EU Mobility Network also provides a legal framework for the implementation of staff and doctoral mobilities.
Based on the agreement, ELTE will host up to 2 incoming students per partner per field of education in each semester for courses offered by the University, while ELTE students will be able to travel to the partners and participate in programmes in a similar way. However, a larger number of students as well as doctoral students and teachers may be accepted based on the capacity and decision of the faculties. The multilateral agreement means that Alliance partners can avoid the preparation of separate bilateral contracts within their fields of education.
Under the new contract and as part of the call for proposals opening in January 2023, ELTE students and staff will be able to apply to participate in part-time Erasmus programmes and mobilities at one of the seven CHARM-EU partners for the 2023/2024 academic year.