Together for Open Science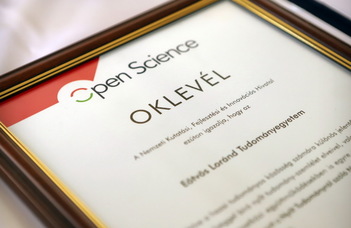 HU
The National Research, Development and Innovation Office (NRDI Office) published its resolution on Open Science in October 2021: Eötvös Loránd University was the first Hungarian higher education institution to join the document.
According to the resolution, Open Science is a novel approach to scientific communication, which is based on the principles of transparency and collaboration, and comprises an innovative method for disseminating the latest research results using state-of-the-art technological developments and the achievements of digitalisation.
At the signing ceremony, Lénárd Darázs, Vice-Rector for General Affairs, emphasised that joining the resolution was of paramount importance for Eötvös Loránd University and that several programmes were launched at the institution as part of this topic. One of the principal objectives of the Institution Development Plan for the period 2021–2024 is to establish an environment that supports and furthers the concept of open science. Additionally, the higher education institution is also active in the international arena having joined the Transforming Open Responsible Research and Innovation (TORCH) project of the CHARM-EU (Challenge-Driven, Accessible, Research-based, Mobile European University) association – which also involves the University of Barcelona, the University of Montpellier, Trinity College Dublin and the University of Utrecht – where the work package related to open science is led by ELTE.
The participants of the signing ceremony: Lénárd Darázs, István Szabó, Péter Sziklai, and Gyula Scheuer
"ELTE is the university in Hungarian that everyone pays attention to, which is why we are confident that in connection with its good example and commitment to open science, several institutions will join us in the future," István Szabó pointed out. In addition to making research data and publications available, the Vice-President for Science and International Affairs at NRDI Office argued for the widespread application of the 'citizen science' concept, as new types of science communication may lead to positive changes in society.
It was also mentioned at the event that in the future Eötvös Loránd University will also take part in the resolution-related activities of the working group. The ceremony was attended by Gyula Scheuer, Chancellor, as well as Péter Sziklai, Vice-Rector for Research at ELTE.
ELTE and NRDI Office for Open Science
ELTE and NRDI Office for Open Science
Lénárd Darázs, Vice-Rector for General Affairs at ELTE
Lénárd Darázs, Vice-Rector for General Affairs at ELTE