Eötvös Art Ensemble
"Eötvös" Art Ensemble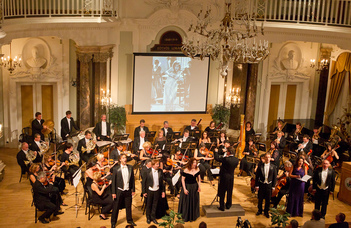 HU
The Eötvös Art Ensemble consist of three cultural groups:
the Béla Bartók University Choir
the University Chamber Orchestra
the Folk Dance Ensemble
Director of the Art Ensemble
László KOVÁCS
conductor
Coordinator of the Art Ensemble
Bernadett LÁNG

Contact
E-mail: info@zene.elte.hu
Members of the groups are non-professional singers, musicians and dancers, primarily current and former students and lecturers of ELTE. If you would like to learn some Hungarian dances, you have a place to join.
Béla Bartók Choir and Chamber Orchestra
Eötvös Loránd University's Béla Bartók Choir and Chamber Orchestra is conducted by artistic director László Kovács.

The choir was founded in 1948 and, the orchestra was fouded in 1957. The repertoire of the ensemble comprises works by baroque, classical and romantic masters, as well as contemporary composers. The orchestra regularly plays symphonies and concertos, whereas the choir typicallyperforms a capella pieces, and, the choir and the orchestra often perform oratorios together. What is more, they also have experience in crossing the borders between classical and popular music. They regularly give concerts throughout the year. The most popular concert of the year is the Christmas concert, traditionally taking place in the Aula Magna Ceremony Hall of ELTE. Don't miss it before the winter holidays in December.

The choir and the orchestra are regular participants of the Budapest Spring Festival, but they also take part at various chamber music festivals and at the Tiszazug Music Festival, which came into existence with the participation of the ensemble. The Benedictine Monastery in Tihany also hosts an annual concert of the ensemble. Furthermore, the orchestra is involved in a concert series, called "Master and Pupil", with the support and participation of Franz Liszt Chamber Orchestra.

During the years, the ensemble gave concerts in almost every country of Europe, and made successful concert trips to the United States, Canada and the Middle-East. Recently they performed in the Great Hall of the Wiener Musikverein (Vienna), whereas in 2014 spring they gave memorable concerts in Lausanne Cathedral (Switzerland). They had an excellent tour in China in 2015.
The ensemble recorded 4 CDs, published by Hungaroton, covering contemporary Hungarian classical music.
The Folk Dance Ensemble
The Folk Dance Group was founded in 1957. The repertoire of the Folk Dance Group includes a wide range of folk dances of the ethnic groups living in the Carpathian Basin. The Group takes part in the amateur folk dance movement, and they were qualified Gold Grade at the latest nationwide qualification. There are two groups, one at a beginner-intermediate level and another one at an advanced level. If you would like to learn some Hungarian dances, you have a place to join.
WANT TO JOIN?
"Eötvös" Art Ensemble
"Eötvös" Art Ensemble