Bárczi Gusztáv Faculty of Special Needs Education
Bárczi Gusztáv Faculty of Special Needs Education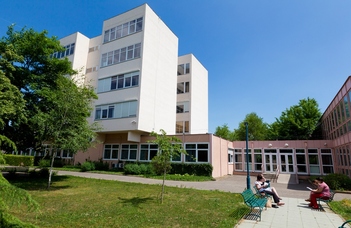 HU
History
The first special education institute in Hungary was established for deaf students in Vác. During the 19th century the national network of special education institutions gradually evolved. The unified Special Education College for Primary Teachers was established in Budapest in 1904. Already by the beginning of the 20th century Hungarian special educators had emphasized that special education support should be provided to persons with disabilities throughout their whole lifespan.

In addition to the training of special educators the former College was the first school in Hungary to introduce the training of social professionals at college level (BA), the training of "social organizers" started in 1972.

In 1975, the College of Special Education adopted the name of one of its former directors, Gusztáv Bárczi (1890-1964), an otolaryngologist specialist and special educator. He elaborated the world famous procedure for countering surdomutitas corticalis. Professor Bárczi modernized the education of persons with moderate and severe mental retardation in Hungary and developed the education programme of "Barczi Haus" in Germany (1958).
Training
Based on a general training in special education and related areas students will be qualified generally in two chosen fields. Single field training is only possible in speech and language therapy. The fields of study are population-specific and include the following options:
education of persons with behavioural disorders
education of persons with hearing impairment
education of persons with intellectual disabilities
education of persons with special educational needs
education of persons with physical disabilities
education of persons with visual impairment
speech and language therapy
Teacher training focuses mainly on preparing students for working with individuals and groups in schools and nurseries and in educational support services. In this training course there is more emphasis on teaching methods for different school subjects.

The special option in therapist training was introduced in 1992. Therapists trained at the Faculty are prepared for carrying out educational responsibilities also outside the school system in social and health care services (e.g. with persons with multiple disabilities and with adults). In this section of training there is more emphasis on different methods and approaches in remedial treatment and on general and specific counselling.

There is an international exchange of teaching staff and students with nine partner institutions from three different countries with the support of the Socrates/Erasmus programme. The Faculty is seeking further partners, especially in English speaking countries. Although the language of instruction is Hungarian for Erasmus students special courses are offered in German and English.
BA studies
MA studies
Further training
The Faculty offers postgraduate diploma programmes for a variety of professionals, such as pre-school teachers, primary school teachers, special teachers and others working in human and social services already having a BA or MA degree, enabling them to acquire thorough knowledge or attain new specifications in the field of special needs, special educational support or management.
Postgraduate diploma programmes
Authorized Expert in Special Education
Communication Resource Teacher
Early Intervention Teacher for Children with Hearing Impairment
Inclusive Teacher for Children with Special Needs
Music Therapist
Occupational Therapist
Rehabilitation Counselling
Rehabilitation Swimming Instructor
Speech and Language Therapist
Departments of the Faculty
Department of General Theory of Special Education
Department of Hearing Impairment
Department of Learning Difficulties and Intellectual Disabilities
Department of Pathophysiology
Department of Phonetics, Speech and Language Development
Department of Psychopedagogy
Department of Somatopedagogy
Department of Visual Impairment
Department of Rehabilitation Psychology
Occupational Rehabilitation Research Team
Research Methodology Group
Bárczi Gusztáv Faculty of Special Needs Education
Bárczi Gusztáv Faculty of Special Needs Education