Noral Daoud Jamil Dababneh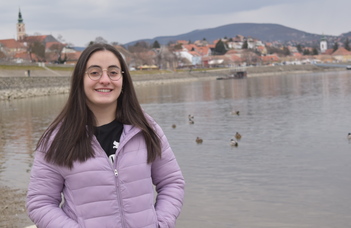 Study program: International Relations BA
Country: Jordan
Scholarship:
Period of studies at ELTE: 2020.09.01 - 2023.07.31
"I believe that if you choose to embark on your adventure here, you will surely love it."
WHAT STOOD OUT TO YOU ABOUT ELTE?
Being a student at ELTE university is not only about studying, but also about interacting with people from all over the world and learning about their cultures, making new friendships that are going to last a lifetime and with participating in a diverse yet peaceful and loving community.
WHAT MAKES STUDYING AT ELTE SO GREAT?
I was lucky to have the opportunity of getting the proper and adequate exposure to the field of my interest by being a student at ELTE university, learning under the supervision of experienced and well-known professors. That gave me the chance to hear the diversified opinions on different matters around us. It made me realize that personal knowledge if properly shared can enrich and help different societies to progress and flourish in the different aspects of life.
WHAT ARE / WERE YOUR CHALLENGES IN YOUR STUDY PROGRAM?
Since I came here my life has been an adventure, and I'm loving every minute and moment of it!
However, I can say that the high load of assignments was quite difficult, because at times I get confused about what or what not to include in the introduction and professors always expected me to follow the right structure in the assignments and that took me a lot of time to understand and edit, which lead to a problem in my time management since I had multiple academic tasks to do within strict deadlines and writing assignments amidst such a busy schedule is no easy feat.
HOW DID YOU OVERCOME THESE CHALLENGES?
I talked to my professors, and they helped me to be aware of the structure set by the university. Also, I started to mention only the most important points in each assignment. On the other hand, I created a timetable and settled out my priorities right which solved my challenges.
HOW WOULD YOU DESCRIBE ELTE IN THREE WORDS?
Grace to grace / My second home
HOW DO YOU THINK YOUR DEGREE WILL HELP YOU IN YOUR LIFE AND CAREER?
I have chosen ELTE university because the program (International Relations) is offering and offered me the chance to grow academically, socially, and personally by giving me the knowledge as a base and the opportunity to fulfil my potentials and embark on the real life. However, regarding my future goals, I aim to start my career with an esteemed organization that fulfils what I learned throughout my previous years as a motivated and passionate student at ELTE.
DO YOU HAVE ANY RECOMMENDATIONS FOR FUTURE STUDENTS AT ELTE?
Starting a new adventure in a new country is surely exciting but also scary. From one hand, you are about to start your university life and meet new friends. And from the other hand, you are having more responsibilities. When I first came to Budapest, I didn't know what to expect, but I can assure you that they were the best years of my life. Here, you will make new friends from all around the world which they will be your second family, you will learn new things, and the most important thing is that you will discover yourself. Budapest is a full of life city and it is easy to get around through the public transportations. I believe that if you choose to embark on your adventure here, you will surely love it.